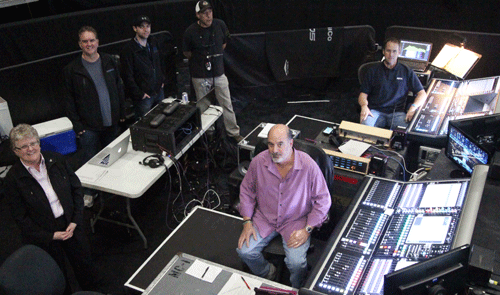 -- FOH crew clockwise from the left: Leslie Ann Jones; Andrew "Fletch" Fletcher, FOH System Engineer; Rick Bramlett; Jeff Petersen, FOH Techs; Mikael Stewart, FOH Production Mixer; and Ron Reaves, FOH Music Mixer. --

In the preceding six days before rehearsals would begin, the Staples Center in downtown L.A. took on the gravitas of a strategic military operation--a well-planned invasion of 150 stage hands, 17 tractor-trailer trucks with tons of rigging, 130 technicians and an audio crew of 60.

With four days of rehearsals, sound checks, and camera blocking with the performers using 23 high-definition cameras, the 57th GRAMMY® Award Telecast has become the largest production of an annual awards show with the most complex audio production in television.

The Grammy Awards show took place on February 8, 2015.

There were 26 songs performed on 23 different setups alternating between A and B stages or both stages together for performances by John Legend, Beyoncé, Madonna and AC/DC's opening set.

Using the latest and most reliable technologies, the veteran audio crew, under the direction of Audio Coordinator Michael Abbott, deployed the latest in audio platforms and workflows in order to accommodate or exceed both the artists', as well as the in-house and TV audience's highest expectations.

To keep the show as fast-paced as possible, live performances alternate between A, B and the house "Dish" stages. While one artist is performing on one stage, huge "flying wall" backdrop sections weighing over one ton each are hoisted up and down in front of the other stage to shield the stage crew while making preparations for the next performance.

Each particular artist's stage performance area is mobile--a self-contained setting on wheels with its own collection of microphones, stands, drum kits, guitar amps, keyboards, synths and instruments. These are quickly moved up and down ramps from backstage to either of the two stages.

Each performance area has its own 56-channel XLR microphone stage box that provides all the wired connections for each artist's setup. Audio sources are quickly connected/disconnected using a single multi-pin, military-grade multi-pin connector.

Backstage were 56-channel Whirlwind custom designed W-4 4-way splitter racks with a direct split for applying phantom power from the monitor mixer's console. Three isolated splits provided for the FOH Production & Music mix positions located at the back of the audience, monitor mixer's position at stage right & left, the Production Audio Truck, Summit, and the two Music Mix Mobile trucks which are located 1000-feet away out in the loading area of the Staples Center. There were four DigGiCo SD-Racks used to output MADI over fiber cable to the FOH & stage monitor mixes.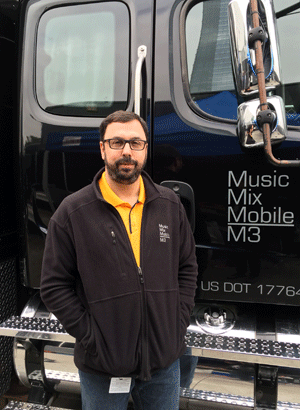 -- Joel Singer--Engineer-in-Charge --

Joel Singer, M3 (Music Mix Mobile) Engineer in Charge notes that his company's Eclipse and Horizon trucks use Grace M802 remotely controlled microphone pre-amps with A/D converters to feed RME MADI converters out to dedicated fiber to his two music trucks.
-- Eric Schilling And Jeff Harris--Broadcast Music Mixers In the M3 Mobile --

In the two music trucks, Broadcast Music Mix engineers John Harris and Eric Schilling work simultaneously using two, mirrored Pro Tools 10.3.8 rigs, Avid D-Control mixers and Genelec 5.1 Smart Active Monitoring (SAM) systems. During the dress rehearsal on the Sunday morning before the evening telecast as well as the actual live broadcast, both rigs were in simultaneous, redundant record mode.

During the four days of rehearsals (also recorded), John Harris can continue to record while the second music truck became available for artists to come in and tweak settings with Eric Schilling. By using the rehearsal recording, EQ, compression, static effects, panning etc. are finalized and stored as snap shot automation to be used as a basis for the music mix of the live performance/broadcast. It is interesting to note that it is still very much live mixing because of the unexpected differences and variables during the broadcast. The broadcast mix is delivered in uncompressed, 24-bit/48-kHz, 5.1 surround format.

NARAS' Glenn Lorbecki says that about one-third of the appearing artists require the use of some sort of track augmentation--from entire backing tracks to loops, strings, keyboards, additional backing vocals, synth parts, noises, etc. However, all lead vocals are sung live and all bands perform and play their instruments live. Pro Tools engineer Pablo Munguia worked in a separate trailer to provide these pre-recorded track elements to both the M3 trucks, monitor mixers, and FOH.

Out in the arena and adjacent to the camera towers in the rear of the Staples arena were the FOH mixers. FOH Music Mixer was handled by Ron Reaves and was supervised by Leslie Ann Jones of The Recording Academy® Producers & Engineers Wing®. Using a DiGiCo SD7 capable of over 250 audio channels, their mix was for the enjoyment of the live audience present in the Staples arena. Sitting next to the FOH mixing position was ATK/Audiotek's Mikael Stewart, FOH Production Mixer using a DiGiCo SD5. He took care of in-house audio feeds such as announcer microphones and house audio playback during commercial breaks.

The especially designed house audio system brought in for the Grammys by ATK/Audiotek and used 100,000-watts to power 94 speaker cabinets flown from a grid that include 12 subwoofers and 9 delay clusters. Jeff Peterson (ATK/Audiotek FOH Tec) and Andrew "Fletch" Fletcher (FOH System Engineer) oversaw this large audio system.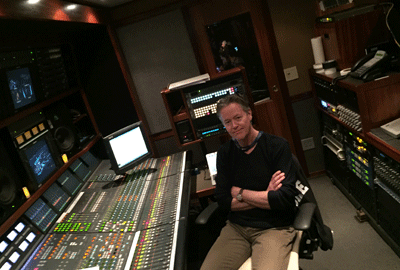 -- Tom Holmes--Broadcast Production Mixer --

There were over 391 microphones used for this show that included more than 54 wireless mics. In addition, there were 41 wireless in-ear monitors, and 18 guitar packs. RF coordination for 300-plus frequencies (including crew and production communications) was the responsibility of David Bellamy of Soundtronics. David explained that he has deployed 28 antennas split into 8 zones throughout the arena for maximal coverage and best signal-to-noise for the wireless microphones. Audio-Technica, Shure and Sennheiser wireless products and systems were all well represented with certain artists (such as Usher with his gold Sennheiser) bringing their own personal mics to use.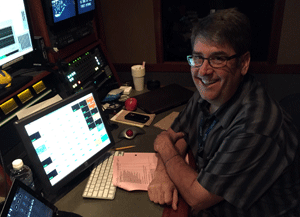 -- Eric Johnston--Playback Mixer --

As an interesting side note: the "global mics" were a pair of allocated handheld mics in the stage manager's back pocket always at the ready if any wireless microphone should fail during the show.

There were two audio engineers in the Denali broadcast truck: Tom Holmes (Broadcast Production Mixer) and Eric Johnston (Playback Mixer). Eric plays (pre-approved) pre-recorded music clips the instant the winner was announced as well as all "bumper" music to and from commercial breaks.

Tom Holmes provided the mix of the finished 5.1 audio mix that was transmitted via embedded audio to the transmission path to CBS NY. Tom used a Calrec Alpha console to combine: 5.1 music mix (from M3's John Harris and Eric Schilling), audience mics, handheld stage mics, pre-recorded audio from video clips and other sources in real time.

Tasked with providing a compelling soundtrack to the home viewer, the broadcast's audio quality is the result of months of planning and nearly two weeks of on-site preparation by consummate audio professionals at the peak of their game.