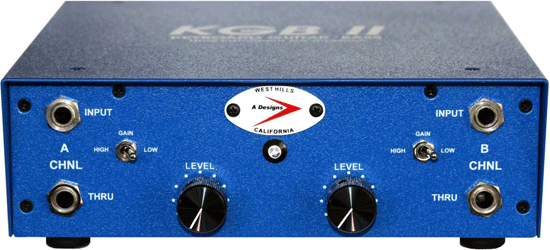 A-Designs KGB-II Two-Channel Instrument Preamplifier

More than just direct boxes, A-Designs' KGB-II and KGB-Itf are instrument preamplifiers that supply +4dB balanced line-level outputs into 600-ohms. The KGB (Keyboard, Guitar, Bass) will directly drive the line level inputs of DAW interfaces, line processors and console line inputs with no need of a mic preamp.

Both built in steel retro-looking cabinets, the KGB-II is a dual-mono (stereo) unit while the KGB-Itf is a single-channel version with a three-band active tone stack. Tone control is by way of a Baxandall high/low shelving EQ with corner frequencies at 5 kHz and 180 Hz, respectively. Midrange frequencies are handled by a peaking EQ section with a broad Q centered at 1.8 kHz. Each section is capable of up to 12 dB of cut/boost.

Both models use the same circuit topology that includes large CineMag CMOQ-25 output transformers. Both units have 22-meg-ohm input impedances and work with high-impedance sources, such as guitars and bass guitars, as well as with lower-impedance, higher-output electronic keyboards.

To accommodate any instrument, there are front panel High/Low Gain range switches for selecting either 34 dB or 26 dB of gain. There are Switchcraft 1/4-inch Input and Thru jacks, and on the rear panels are XLR output connector(s) and toggle switches for phase flip, ground lift (XLR Pin 1) and power on/off. The KGB preamplifiers are each powered by external wall-wart 20-VAC power modules (supplied). A modified bi-polar voltage-doubler circuit is used for generating the fully regulated +/-24-volt rails.

The KGB models each use two discrete op amp modules designed by Carl Johnson. The KGB-II has one for each channel's line driver and the KGB-Itf uses one for the EQ and the other for the line driver. The modules plug into the main circuit board with spare modules costing $75.

Operation is simple and immediate for either unit. The High/Low Gain toggle switch sets the operating range depending on what source you plug in, and a single aluminum knob sets the final output level.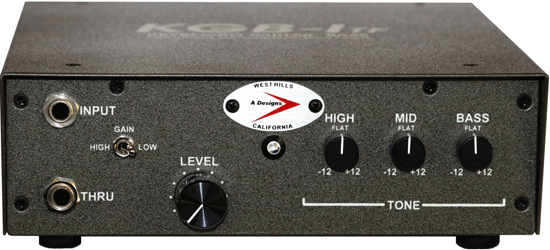 A-Designs KGB-Itf Single-Channel Instrument Preamplifier With 3-Band EQ

I first tried the KGB-Itf for recording a Suhr Classic J4 bass guitar. I pushed low frequencies using the low-shelf EQ and took the Suhr to another level with near synth-like subsonics--especially noticeable on slides and percussive "pops." The center position of the three tone controls is flat, but I wish these pots had center detents.

The KGB-Itf got a great sound from a Suhr Guthrie Govan Signature guitar. As with the bass guitar, I found the sound to be clear and clean and I liked not having to use a console channel strip. I directly connected the KGB to the studio's Pro Tools HDX interface input.

I then tested the KGB-II as a stereo preamp to record a Korg Triton keyboard. The Triton's Combi patches put out hot levels, so I set the High/Low gain switch to low. Even with the Level knob on the KGB II fully CCW, I had plenty of level and ended up reducing the Triton's onboard fader. The sound was clean, clear and dynamic--percussion sounds were bright and not compressed.

Staying with the KGB-II, I then did bass guitar overdubs with my guitar player on a stock Fender Jazz bass with passive pickups. I used the High Gain setting with the Level control at about 1 o'clock. I connected the output directly to a dbx 160A limiter/compressor whose output went into the studio's Pro Tools interface. This produced a consistent bass sound with percussive attacks well heard, good sustain and solid low frequencies.

Both the KGB II and the KGB-Itf are solid, core investments for any studio, live sound engineer or musician who wants great sound simply. Especially good for console-less project studios, I can recommend them both.




Try This!

I hooked up the KGB-II so that the left channel's Thru signal went into an overdrive pedal. That pedal's output went to the right channel's input and its Thru out to the guitar amp. Now I had line-level outputs to record both the guitar's original clean signal as well as the overdrive pedal's output signal. You could also connect the guitarist's entire pedal board instead of just the overdrive pedal. In this way, the guitar player maintains his live amp sound, as well.


-- Barry Rudolph

Barry Rudolph

Barry Rudolph is a recording engineer/mixer who has worked on over 30 gold and platinum award-winning records. He has recorded and/or mixed Lynyrd Skynyrd, Hall & Oates, Pat Benatar, Rod Stewart, The Corrs, and more.
Barry has his own futuristic music mixing facility called Tones 4 $ Studios and also teaches audio engineering at: Musician's Institute, Hollywood, CA..

He is a lifetime Grammy-voting member of NARAS, the 'New Toys' columnist for LA's Music Connection Magazine, and a contributing editor for Mix Magazine.
www.barryrudolph.com www.gearlust.com

A-Designs Audio, Inc

Web Site: www.adesignsaudio.com

Product: KGB-II and KGB-Itf Instrument Preamplifiers

Price: $754 MAP (each)

Pros: A big and warm line-level sound.

Cons: A bit big and heavy, KGB-Itf tone controls need zero detents.
Barry Rudolph is an L.A.-based recording engineer. Visit his Web site at: WWW.BARRYRUDOLPH.COM
---

Click Here To Return To The Directory Of Mix Magazine Reviews

This Review Is Copyright © By New Bay Media LLC. All Rights Reserved.