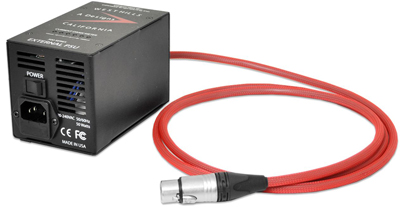 Included Mix Factory Power Supply
Mix Factory In Use
Here is the way I set up the unit for a song I mixed that sounded so much better than the original in-the-box mix. Note: This is just one way and you are not limited in any way setting up Mix Factory depending on your specific workflow, track count and the requirements of your deliverables.
Using test tones coming out of Pro Tools (-18dBFS ref), I verified that all 16 channels were each contributing exactly the same level to the mix buses. For recall purposes, I set the stereo sub masters and the Grand master controls at maximum--full up. I found that all level controls matched very closely in their actual knob positions.
Also for faster mix recalls, a good update would be to add a "calibrate" position for each of the 16 level pots. A switch on each pot could substitute in a front panel accessible trim pot.
Stem Configuration
I always record mixes to a new stereo print track inside of Pro Tools so I was able to quickly A/B between Mix Factory mixes and previous ITB mixes of the same song all residing on the same playlist. I slipped all mixes together in time for instant X-OR soloing comparison.
I spread out all tracking instruments as individual mono or stereo stems into channels 1 through 8 under control of the first stereo sub master. The second eight channels (9 through 16) were configured this way: lead vocal (9); lead harmony (10); stereo background vocals (11 & 12); strings/brass (13 & 14); and all mix effect returns (15 & 16).
For this song and for A/Bing the ITB mix, I found it easier to dedicate two outputs from Pro Tools that contained all ambient and overall effect returns--reverbs, rooms, stereo wideners, delays used globally on all tracks. I like building mixes this way. I'm using Pro Tools automation exactly the same way as always and I found that analog console "forgiveness"--you can make exaggerated mix moves, if required, without overloading Mix Factory's buses and necessitate backing everything down and rebalancing other mix elements.
I did get into the habit of using separate Master faders (in Pro Tools) for each stem output for occasionally automating stems. I also tried inserting my pair of Warm Audio WA-2A Leveling Amps on the tracking stereo sub master insert and they worked great for that!
The sound of my mixes using Mix Factory is noticeable bigger and clearer. They are stereophonically wider sounding and there is a depth of field I don't get with the same mix done ITB. Mixing music this way has the sonic integrity of a good sounding and well-maintained large format analog console. There is a punchy presence; a clear, tight and thick sound and that's not muffled, dark or distant. Inserting the transformers adds low frequency roundness and a kind of harmonic "glue." For certain songs I liked the option of using the transformer as a final touch without having to deal with a significant level shift.
Mix Factory Goodness
I'm impressed with Tony Shepperd's Mix Factory; it is like mixing on an analog console but using your favorite DAW automation, analog processing power and consistency. I'm can still personalize my mixes with my own particular input/output gain structuring in Mix Factory and freely use outboard analog processors as I would use when mixing on a desk.
Try This!

The Mix Factory has sufficient headroom/dynamic range (+27dBu max input level) that I tried setting all 16 level controls to unity at fully clockwise. I liked this method for easy recall and this "hot" setup drives the buses and any inserted processors harder. If you're into transformer core saturation, you'll get even more with this setup.


-- Barry Rudolph

Barry Rudolph

Barry Rudolph is a recording engineer/mixer who has worked on over 30 gold and platinum award-winning records. He has recorded and/or mixed Lynyrd Skynyrd, Hall & Oates, Pat Benatar, Rod Stewart, The Corrs, Mick Jagger and Rick Rubin.

A three-time Grammy-nominated engineer, Barry has his own futuristic music mixing facility called Tones 4 $ Studios and also teaches at: Musician's Institute, Hollywood, CA..

He is a lifetime Grammy-voting member of NARAS, the 'New Toys' columnist for LA's Music Connection Magazine, and a contributing editor for Mix Magazine.

www.barryrudolph.com www.gearlust.com

A Designs

Web Site: www.adesignsaudio.com

Product: Tony Shepperd's Mix Factory

Price: $2,990 MAP

Pros: Big sounding 16-channel analog mixing console in 2U of rack space.

Cons: Could use a calibrated switch for preset channel levels.
Barry Rudolph is an L.A.-based recording engineer. Visit his Web site at: WWW.BARRYRUDOLPH.COM