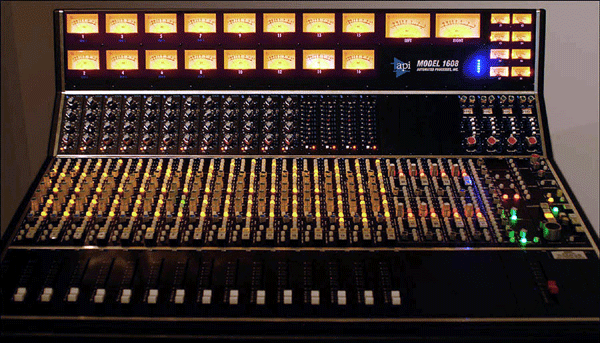 The API Model 1608 analog recording console retains the same design philosophy, build quality and--most importantly--the same sound as the company's revered '70s-era mixers. It also includes modern updates that broaden its usefulness in this age of multiple recording and mixing formats, and the ubiquitous DAW. The 1608 has everything necessary to take any project from conception to final mix.
Breakin' It Down
Truly a small-footprint studio mixer, the 1608 measures 37.6 X 33 X 18 inches (W-D-H), weighs 228 pounds, and is built on a solid-aluminum frame. Its external linear power supply module connects via a 15-foot cable and mil-spec, multipin connectors. The 1608 has a 90-pin Elco connector for adding the 16-channel API 1608 Expander, which completely integrates program, summing and aux buses, mute group and solo facilities.
The 1608 uses all-discrete audio signal paths with fully balanced inputs/outputs. Also standard are: LED-lit push buttons for all functions and custom-made LED backlit VU meters, with no FET switches or VCAs anywhere. For group muting, low-distortion, light-dependent resistors are used; otherwise remote switching is by way of Panasonic TN Series relays with gold/silver contacts.
For console I/O, the rear panel of the 1608 bristles with XLRs, 1/4-inch TRS and DB25 connectors for: module direct outs; module insert points; mic and line inputs; instrument inputs--1/4-inch, 121k-ohm unbalanced DIs on every input with 45dB of gain; line level echo sends and returns that can be used for recording; ins/outs for eight optional Series 500 modules; line level fully balanced program and eight bus outputs and inserts; six-channel and two sets of stereo monitor speaker feeds; six-track and stereo playback; and talkback and oscillator outputs.
To keep costs down, the console's module order is fixed--you cannot freely swap modules around. The standard module order is: 16 mic/line 548B input modules; four E1608 echo send/return modules; one 168B summing bus module; one 268B program bus output master; one 845B control room monitor; and a 840B Central Facilities module. The meter bridge has VUs for eight buses and/or 16 channels, stereo program level, eight echo send/return meters, plus talkback mic and power supply monitor LEDs.
The first 12 channels include 3-band 550A EQs, and the last four channels have 10-band 560 graphics, but you can order them any way that you like. These are API's famed proportional Q equalizers, where only a few clicks change their sound from smooth and subtle to cranky and extreme.
548B Input Module
The 548B modules are arranged in two 'buckets' of eight with a single 440B fader module, containing eight 100-mm mono Alps faders, spanning the bottom of each eight.
Just above the fader are switches for mute, solo, mute group, and solo safe plus the mic/line input pre-amp controls. There are buttons and controls for: polarity (phase) flip, -20dB mic or -6dB line attenuation; +48-volt phantom; and adjustable gain control up to +65dB. The mic/line button has a double-duty LED where line input peaks light up red but while in mic input mode, they light blue changing to lavender on peaks.
The 1608 uses mostly API 2520 opamps everywhere and the mic pre-amps use one in a circuit similar to the mic pres in the API 3288 console. The same mic transformers in the company's 512C mic pre are also used.
Above the mic/line section are the eight echo send knobs set up in four stereo pairs of concentric controls with on/off, pan pots, pre/post buttons and the ability to route sends 7/8 simultaneous to summing buses 1, 2, 3, or 4.
The top of the 548B module has lighted buttons to route a channel's audio output to the stereo program bus and/or any of the eight summing buses. The direct output (post fader) is always active.
While the pan pot always feeds the program bus, the Pan button will connect it to assigned odd/even summing buses. The channel's output level is reduces 3.3dB while in center pan position. The Fltr button inserts a gentle -3dB high pass filter with a 6dB/octave slope starting at 50Hz while the Insert button breaks the signal path coming from the equalizer for patching an external processor. The balanced line-level insert send signal coming from the EQ always remain active.
E1608 Echo Send/Return Module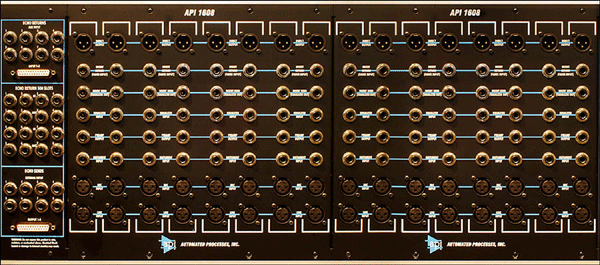 Each of the four echo send/return modules handle two sends and two returns and are for additional line inputs to the mix, additional subgrouping and for deriving headphone mixes.
The echo send section has: bus level, on/off, solo, VU meter select (reads either the send or return level), an external line input on/off that mixes with the console's echo send signal bus (very cool!), and talkback on/off to the echo send bus.
The echo return section has: eight summing bus and stereo program bus assigns, level, pan pot, on/off, solo, solo safe, aux in/out for an external line level signals, and mute. The Mix button routes the echo send output to the input for the echo return.
168B, 268B and 845B Modules
All eight summing buses are controlled on the 168B Summing Bus Sub-Master module. There are: on/off buttons; AFL and PFL solo only; level trim; a recessed calibration trim pot; and L/R program assignment buttons for routing bus outputs to the stereo mix.
Along side is the 268B Program Bus Output Master and Monitor Output module. For the stereo program bus there are: L/R trim level controls to calibrate the 100-mm stereo master fader at the top of its travel to 0VU and unity gain, on/off buttons, an insert in/out button, plus other calibration trim pots.
The 268B continues with a six-channel monitoring control and calibration section with on/off buttons and six cal trim pots. Besides the main control room monitor speaker path with cal pots, there are two small speaker systems available also with individual cal pots.
The 845B Control Room Monitor module has a L+R Mono monitoring button and the master volume control--the same customized 2-channel Alps unit that API converts to a six-channel version--and also uses on their Vision console. There are: a monitor Dim button with level control; Speaker Cut that kills any speaker set selected; Main speakers select that, when deselected, allows a choice between two sets of small monitors.
The 1608 has extravagant six-channel monitor facilities for selecting between four different sources beyond the stereo program bus. Although the stereo program bus is normalled to the monitor, the eight buses used in surround mixing are not. Mixing in surround would necessitate either patching multitrack buses to the monitor or selecting your surround master recorder as one of the four playback sources and monitoring through it.
840B Central Facilities Module
The 840B module has: Talkback To All button; T/B to Aux; Slate for "printing" the talkback audio to buses; and a headphone on/off switch. A stereo headphone jack is located at the lower right of the console under the bolster cushion--it puts out 1.2 watts into 8-ohms--loud enough.
Above this section is the Mute Group on/off. Whatever channels have their mute group buttons selected are controlled with this single button. There is only one mute group but selecting the Aux Pre=MTE button causes any channel echo sends in pre-fader mode to follow that channel's mute. (Great idea!)
The Solo Master section controls the three solo modes available. PFL or pre-fader listen (the default), AFL or after fader listen, and SIP or Solo In Place. There is level control for AFL and PFL and both are non-destructive. The Clear button clears all solos and blinks while solo is active.
The 840B finishes with controls for selecting whether the 16 meters measure: the 16 channels' pre-amp outputs, the direct outs or buses 1 through 8 along with either 9-16 channel pre-amp outs or directs. Just like a vintage API console, the onboard oscillator has level control, on/off, and a button to route its output to the buses. The oscillator ranges 20Hz to 20kHz in twelve steps. Lastly, the very handy peak threshold switch globally changes all peak reading LED buttons on the console to either: +4dBU, +8dBU, +12dBU, +16dBU, +20dBU or +24dBU.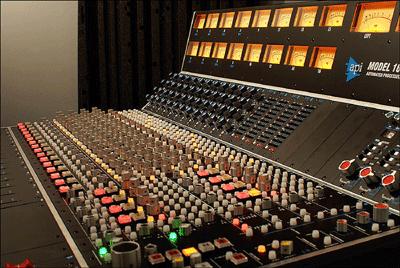 In The Studio
I felt a strange sense of "déjà vu all over again" when I first sat at the 1608--everything was located exactly where I'm used to, just like when using a vintage API 2488 or 3288 console.
I began testing the console by mixing songs I had recorded in Pro Tools. The 1608 lined up in perfect calibration when I played -18dBU reference tones out of Pro Tools. With faders at unity and playing full-level tracks from Pro Tools, the 1608 had loads of headroom and did not distort even though the stereo program's meters were pinning.
To better measure the stereo bus level and operate the console realistically, I lowered all faders somewhere south of unity. If possible, I'll change Pro Tools' HD 192 I/O setting to -20dB reference playback level to use more of the console's huge reserve of channel gain. Right from the first rough balance and before using any equalizers, the sound was wide, deep and expansive--identical to using a large-frame API.
Recording on the 1608 is like any in-line console. For full sessions, I played my monitor mix on the faders using the EQs, echo sends for monitor effects and cue mixing and, at the same time, patched out of the mic preamps directly to outboard processors and on to Pro Tools. Those extra eight Series 500 slots full of mic pre's, EQs and compressors are a must for this engineering style.
I tried recording a Martin D-28 acoustic guitar track using a stereo X/Y pair of Mojave 201 FET condensers patched into channels 15 and 16. A pair of Distressors patched after the 1608 helped to produce an aggressive sound, and the console's 560 graphic EQs let me shape tonality to fit this rock track. Due to the gain added by the compressor and with Peak Threshold set to +4dBu, I got occasional flashes on my playback faders but none on my recording channels--a good thing--I was recording and playing back "all" of the sound, including its peak information.
I found no sonic difference between using the direct outputs and the buses--although I had to calibrate the buses so they all matched each other. Using too much mic gain makes it easier to overload the buses than the direct outs but, at proper operating level, there was no change in sound. In addition to bus peak indicators, my wish list includes eight 100mm faders for controlling/riding bus levels.
A New Classic
Another classic in the making, the 1608 has the same honest, clear, punchy and tight sound of its vintage predecessors. Couple all this with API's legacy, operational efficiency and wonderful proportional Q equalizers and the 1608 provides the best and fastest track to sonic nirvana I've seen in years. As tested, the API 1608 sells for $49,995 and for more information, check www.apiaudio.com/1608.html
Barry Rudolph is an L.A.-based recording engineer. Visit his Web site at: WWW.BARRYRUDOLPH.COM