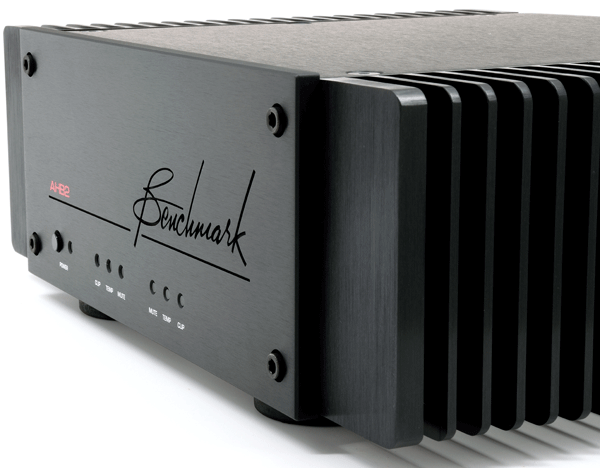 Benchmark Media's AHB2 is a professional, analog audio power amplifier designed for high-resolution audio (HRA) playback systems such as recording and post-production studios or high-end audiophile/home theatre systems. The AHB2 is a hybrid Class-A/B amplifier that uses a wholly new radical approach to analog audio power amplifier design. It delivers super-low distortion, high efficiency, low noise and high dynamic range specifications not previously possible with any power amp regardless of class of operation. These are specifications that approach the measurement limitation of modern audio analyzer instruments.
As measured on the new Audio Precision APx555, Benchmark Media's AHB2 showed a THD+N of -116 dB (0.00016%) at full rated power of 100-watts into 8-ohms both channels driven at 1 kHz measured over a 90 kHz bandwidth or 380-watts bridged mono into 8-ohms. The signal-to-noise ratio is 132 dB A-weighted in stereo mode and 135 dB in bridged mono. Dynamic range is specified at 132 dB and frequency response is rated at 0.1 Hz to beyond 200 kHz (+0dB/- 3dB).
Meticulous Design
The AHB2 is a compact, 2U desktop unit with heat sinks on both sides; it measures 11.04-inches wide and weighs about 12 pounds. Also available in a rack-mount version, it is easily installed in control or listening rooms as there are no cooling fans. Nonetheless the unit runs only slightly warm at full music power levels.
The AHB2's tight-fitting enclosure along with mu-metal shielding prevents ultrasonic switching noise from the resonant switch-mode power supply from entering the audio path as well as radiating externally. The supply's very fast control loop tracks and detects changes in current demand made by audio peaks in the amp's main output section and also by changes in the incoming AC line voltage. The power supply continuously adjusts to maintain constant rail voltage and therefore maximum output power and overall efficiency.
THX Patents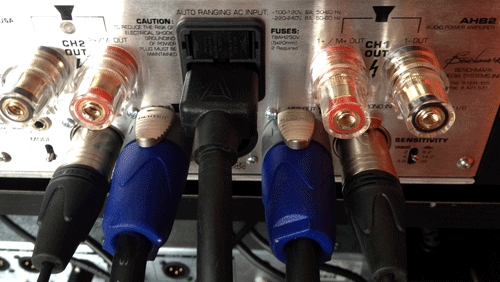 -- AHB2 Rear Panel In-Situ----

Benchmark Media collaborated with THX Ltd. to implement the first use of Achromatic Audio Amplifier Technology™ (AAA), a new patent design that uses a combination of feedback and feed forward error correction to make distortion "vanishingly small." Crossover distortion is especially problematic at low playback levels and the AHB2's low distortion and noise specification does not vary from minimum to maximum output level or changes in speaker load impedances.

The AHB2 main amplifier uses eight bi-polar transistors per channel and class-H rail tracking in a class-AB design. Demand-based power supply rail voltage manipulation improves amplifier efficiency but usually at the cost of increased distortion. The THX AAA technology greatly reduces this distortion.

The front panel has a power on/reset push button and six LEDs to indicate L and/or R channel clip, mute and temperature warnings. The AHB2 uses an FPGA-based digital control system that powers up and/or shuts down the amplifier in a specifically defined sequence. The amp will shut down or not power up at all when there is: overheating in critical areas, over-current or low AC voltage, distortion, DC offset, output short circuit, or excessive input levels. This power up sequence takes about 8 seconds. Per EU requirement, there is also a power-save mode that shuts the AHB2 off after 45-minutes of inactivity. Sealed NEC relays are used and none of the protection networks are directly in the audio path.

The rear panel has an IEC AC connector (auto-ranging 100 to 250 VAC), balanced XLR inputs for left and right channels, stereo/mono mode switch, huge audiophile-grade gold speaker cable binding posts, Neutrik Speakon jacks for left, right and bridge mono outs, and 12-volt trigger jacks for remote on/off power sequencing.

There is also a three-position input sensitivity switch with +22, +14.2 and +8.2dBu positions for accommodating a wide range of typical operating levels.

Most audio power amps have too much gain resulting in an elevated output noise floor--noise that originates in their high-gain, front-end stages. The AHB2 is a low-gain power amplifier; the best performance comes when driving it from +22dBu sources.

In The Studio(s)

For my first listening test, I substituted the amplifier(s) used in the alternate speaker monitor system at LAFX Studios in North Hollywood, CA. I set up their pair of their Tannoy SGM 10s monitors with Mastering Lab crossovers and connected them to the AHB2 using a pair of short, custom-made #10 gauge cables fitted with Neutrik Speakon connectors.

At the +22 dBu input sensitivity switch position and for a given loudness, you may find your system's volume control nearly maxed out so switch to the +14.2 dBu position. Both the studio's vintage API console and my own Avocet monitor controller worked fine at +22dBu.

I used a well-known "reference" recording on a CD played out through an Alesis ML9600 MasterLink deck. For consistent source program while comparing different power amps, I looped certain song sections to play over and over.

Immediately I heard that the AHB2 reproduced the recordings ambient space captured (or added artificially) as open and wide with reverb tails hearable down to the recording's noise floor. I could hear all of the reverb not more reverb--low level detail was more hearable much like wearing headphones vs. listening on speakers in a room. There was a pristine and smooth quality to the high and middle frequencies heard on the Tannoys. By comparison, another well-known power amp sounded "trashy" and harsh in the upper midrange.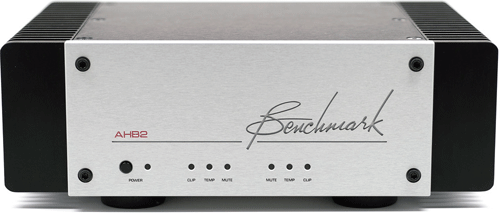 With the AHB2 there was an overall vibrancy and transparency not a hyped, bright sound. The transients--the spikey attack portion of snare hits, cymbal crashes and kicks are crystal clear if they are that way in the recording. Deep bass notes and loud kick drums are effortlessly reproduced without power amp compression as I sometimes hear on powered monitors--if there was any distortion it was the woofers themselves over-extending!
The clean and clear sound of the AHB2 was apparent on the studio's Yamaha NS10ms as well. The AHB2 offers zero coloration; if you've been relying on your power amp to impart a flattering sound to your NS10Ms, it might take time to get use to them powered by the AHB2. But hearing those trusty ol' 50-watt Yamahas with this super clean amplifier pointed out how basically primitive and useful those speakers are.
I've never heard those speakers sound this tight and good.
Benchmark Media DAC2 L

Benchmark Media's DAC2 L is capable of converting either DSD (in DoP 1.1 format)
or up to 32-bit/192 kHz PCM.

It has various S/PDIF and TOSLINK inputs plus an asynchronous USB 2.0 input jack.

I used the front panel passive volume control to drive the AHB2 up to +22dBu levels.
High-Resolution Solution
For listening to HRA directly at my studio, I bypassed my monitor controller completely and used Benchmark Media's DAC2 L digital-to-audio converter directly connected to the AHB2 using its XLR outputs and a short pair of VOVOX Link™ Series silver audio cables with gold-pinned XLR connectors. For this test I borrowed a pair of Manley Tannoy ML10B monitors.
I downloaded 24/96k PCM and 1-bit DSD files from hdtracks.com and other sites and played them (via USB) on my Mac using Audirvana Plus 2.0 software. I downloaded examples of acoustic music, orchestras, piano concertos, and jazz ensembles. Whether listening to 24/96 files or .DSF 2X files, the sound is awesome with amazing depth and realism. Depending on the particular record's production, typically there is no harshness from file size compression or extreme mastering EQ/compression.
If you like loud and room filling spectacular sound for classical pieces, you'll not be disappointed. The AHB2 and the ML10Bs came through with unfaltering and thrilling performance every time.
Pro Tools HD 11
I then connected my Pro Tools HD 11 system using the same setup. I collected all the CDs nominated in the final round for Best Engineered Non-Classical for last year's Grammy Awards and imported them into a 24-bit/44.1kHz Pro Tools session. The DAC2 L automatically switched to PCM 24-bit/44.1kHz. I found having each song on a separate stereo track a good way to compare these great sounding recordings--back to back or randomly by clicking around the timeline.
As compared to my powered monitors, working on mixes in Pro Tools HD 11 through this system sounds more real, detailed and clear. In addition, this is a dead quiet--noiseless system. With no music playing, I could crank the DAC2 L's volume control wide-open and hear nothing--even with my ear right on the speaker cone!
Impressive!
There is only one word for the new Benchmark Media Systems AHB2 power amplifier: impressive. I highly recommend it!