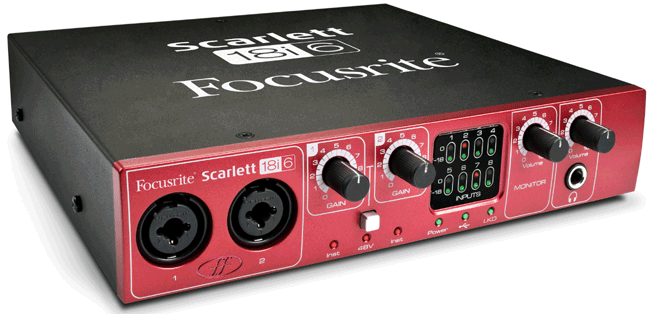 The Scarlett 8i6 ($299) and 18i6 ($399; reviewed here) are two new USB 2.0 audio interfaces from Focusrite, and they differ only in their respective number of analog and digital line inputs (eight and 18, respectively). Both half-rack units feature two XLR Combi jacks for either microphone, line, or high-impedance DI inputs that use Focusrite preamps for up to 60dB of gain. Both units provide up to six simultaneous audio output channels.
The units have MIDI In/Out jacks and 24-bit/96kHz AD/DA converter chipsets, and are compatible with any DAW, including Pro Tools 9, by way of the included Focusrite Scarlett MixControl software--a virtual 18x6 DSP mixer that operates in 32 or 64-bit modes in Windows 7, Vista and XP SP3, or MacTel computers running OS 10.6.5 Snow Leopard.
A quick pop of the hood of the steel-cased 18i6 reveals a main circuit board surrounded by subassemblies for the front and rear panel controls and jacks. Most all components are surface-mounted and contribute to the unit's overall ruggedness. Power comes from an included, lightweight 12-VDC wall-wart supply that comes with adapters for plugging into any AC wall outlet in the world.
The 18 inputs comprise two Focusrite mic/line/instrument inputs with gain controls and, on the rear panel, six balanced analog line inputs, an ADAT Lightpipe for eight more digital inputs (four at 88.1/96 kHz), and a stereo S/PDIF input. The unit's six outputs comprise two balanced monitor line outputs with level control; a stereo headphone output jack that is separate from the monitor output, with its own level control; and a S/PDIF stereo output.
The front panel has three green LEDs to indicate power, USB connectivity and system sync lock. Two red LEDs indicate that you have selected, in MixControl, whether the Focusrite pres are high impedance instrument inputs or low impedance mic/line level. A set of eight, green and red LED trees indicates input signal presence and/or clip at any of the eight analog inputs.
MIXCONTROL DSP MIXER/ROUTER
MixControl software routes and mixes up to 18 input sources with a latency specified at lower than 1.4 ms. The Mixer section has nine stereo faders and a stereo master fader; each can unlink (split) into two mono faders. In either mode, each has a pan pot plus mute, link/unlink, solo, and PFL buttons. Input sources from the eight analog, 10 digital inputs and six outputs from your DAW are selectable via pull-down menus with the already selected sources grayed out.
The master fader is assignable for either stereo or mono mix channels for up to six mixes total (a stereo mix uses two channels). You can rename, save and copy mixes for quickly creating amended versions of your main monitor mix for alternate mixes and/or headphone mixes.
The wholly separate Routing section is for connecting audio sources directly to any of Scarlett's six physical outputs, and it works globally across all saved Mixer configurations. The Zero Latency mode routes a mix developed in MixControl's stereo mixer directly to the monitor and headphone outputs, but you can also easily change over to listening to your DAW's mixer.
The Monitor Control section has an onscreen volume control, mute, dim, and Left or Right mute buttons. These virtual controls drive the front panel controls, so you can control the level of both the monitor speakers and the headphones together or independently. You can also elect not to control monitor level and output full level to an external monitor controller.
The Device Status Section indicates sample rate, sync source/status--internal or external coming in on the S/PDIF or ADAT Lightpipe--and USB connectivity. For Windows users, there is a pull down menu for selecting the ASIO buffer size here.
INSTALL, CONFIG, PLAY
After installing the software, I connected to Scarlett a USB cable from one of the rear sockets of my computer; an ADAT Lightpipe output from my Focusrite OctoPre MkII; two 1/4-inch monitor output cables from Scarlett to my KRK Ergo monitor controller; and the S/PDIF out from my CD player into the Scarlett's S/PDIF in--that was for playing CDs directly in the MixControl mixer, although I would have to change the sync source over to the CD player.
With Scarlett powered up I launched MixControl and changed the Sync source to ADAT in order to clock from the OctoPre. I started up my Pro Tools HD3 Accel rig (Version 9.0.2) coupled with a Westmere 8-core Mac Pro running OS 10.6.7 operating in 64-bit mode, and on the Playback Engine page I changed "HD TDM" over to "Scarlett USB." After restarting Pro Tools, I launched a session that I had created in version 8 LE on another computer and it came up perfectly, playing back the very first time.

Changing connections after powering up risks getting this message. You may have to restart your computer and power-cycle Scarlett.

TRACKING

Scarlett's eight analog inputs, stereo S/PDIF channels and the eight ADAT inputs (from the OctoPre) show up automatically as 18 total inputs in the Pro Tools I/O.

I planned my tracking session as follows: eight mics on the drum kit were in the Focusrite OctoPre Mk II so that I was assured they were all phase coherent with one another; two Shure SM57s--one for each guitar--in the two Focusrite Scarlett mic pre's; the remaining six analog inputs received line level outputs from my RTZ Professional Audio 9762 2-channel mic pre for a bass guitar DI and amp; and a four-pack of API mic pre's covered stereo miking for my baby grand and two room mics for the drums.

If you are a "one track at a time" songwriter, you can keep all your instruments and mics connected to Scarlett; there is no need to disconnect one analog source to connect and record another.

I switched to Zero Latency monitoring and developed a monitor mix of the 16 sources. Then I copied the monitor mix as a basis for building a different headphone mix that the band liked. Mixes included a stereo mix feed from Pro Tools that stayed muted until we listened to a take or did an overdub.

I kept Pro Tools' edit and mixer windows and the compact MixControl GUI always visible on the Mac's screen, and used Command + Tab to toggle between them. The mixer works well (even Pro Tools' Option+Click shortcut works), but I would like to have fader grouping capability, because accurately changing eight individual drum monitor faders up and down together can be tedious.

Since we were all in the same room and on phones, I could have also used a duplicated rear panel headphone output jack to connect to my Aphex HeadPod Model 454 headphone amp for the band's use. In lieu of that, I used a "Y" cord in the front panel headphone jack to make it work.

While tracking, we often like to refer to other records we liked--more for their vibe and an ear rest than anything else. I connected the S/PDIF out of my CD player to the S/PDIF input of Scarlett and brought it up on the mixer so we could hear it at any time on both the phones and monitors. Slick!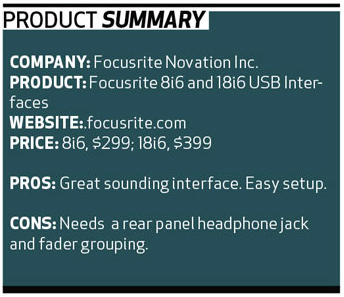 RED READY
I was impressed by the small and powerful Scarlett 18i6. It's a solid workhorse that just does what it does well and sounds great. Once connected and configured correctly, it ran all day and night without a single glitch or restart.
I found the Focusrite mic pres excellent just like the pres in the OctoPre MKII and the Saffire Pro 40--they work super on all sources with plenty of gain and no noise.
Both the Scarlett 8i6 and 18i6 come with Focusrite's Scarlett Native plug-in bundle with an EQ, compressor, reverb and gate. You also get Focusrite's Xcite+ bundle along with Ableton Live Lite, Novation's Bass Station soft synth and more than 1 GB of royalty-free samples.
Barry Rudolph is an L.A.-based recording engineer. Visit his Web site at: WWW.BARRYRUDOLPH.COM