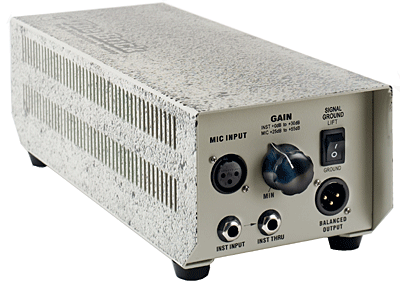 The aptly named Brick by Groove Tubes at $499 MSRP is a single-channel, all-tube DI and microphone pre-amp that will appeal to everyone--from the strict, "no expense spared" pro audio user to the cash-strapped, home studio hobbyist.
The Brick is GT's Ditto DI unit with additional XLR mic input circuitry. A self-contained and portable unit made for either studio or stage; the Brick is housed in an all-steel cabinet with nearly all the components manufactured by Groove Tubes--even the large Gain knob. Besides the built-in 110/220 VAC power supply, there are three Groove tubes (6205, 12AX7 and 12AU7) running in cascade Class-A mode for up to +30dB of gain for the instrument input and +55dB for the XLR mic input.
There are custom-wound input and output transformers that are almost too big to fit in the cabinet! Both are encased in metal shields to minimize magnetic interference and then manually rotated to the magnetic null point of the power transformer during final testing.
Controls and switches include: power and +48volt phantom powering on/off switches with LED indicators; 1/4-inch three-megohm impedance instrument input and feed through jacks; 600-ohm XLR mic input jack (great match for ribbon mics); instrument ground lift switch; and master Gain control.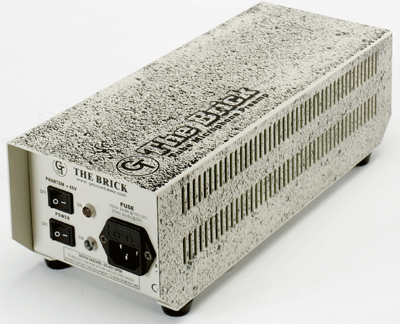 In the studio, my first use was for recording direct guitar out of a pedal board. Plugging into the 1/4-inch jack automatically mutes the XLR mic input so there is no mixing of the two inputs. The Brick's 150-ohm line level XLR output cable went directly to the line level input of the studio's Neve 8058 console. With the Brick's Gain knob at 3 o'clock, the 1073 module's line switch to the +10dB position, I got a 0dB fader position and full level to the Pro Tools HD rig (-18dB ref).
The sound was excellent: clear, present with no noise and smooth high frequencies. Since the Brick was out of reach in the studio and, if I didn't require local control, I could have bypassed the Neve and connected the Brick's output directly to the Digidesign 192 I/O which I did when recorded vocals and bass guitar.
I got great vocal sounds from my loud and slightly shrill Rock singer. Even my 'cranky' U-87 (no pad and no roll-off) sounded warm and fuzzy but I had to wind the Gain control nearly wide open to achieve a proper recording level. With 55dB of gain, the Brick is fine for about 90% of recording tasks. If you are doing very quiet Foley or ambient recordings or using very low output mics for recording quiet sources, you may need additional gain--usually by way of a following compressor or the channel strip in your console. For a very punchy sound from a Fender P-Bass with passive pickups, I made up gain by following the unit with a Teletronix LA-2 leveling amp.
Groove Tubes does it again with another very useful tube-based and modern product. The Brick is simple to use, sounds great and built to last at home, in the studio, or on stage. 818-361-4500 or visit: www.groovetubes.com
Barry Rudolph is an L.A.-based recording engineer. Visit his Web site at: WWW.BARRYRUDOLPH.COM