The Korg MR-2000S is the company's top-of-the-line MR Series 1-bit recorder. For audio pros concerned about future-proofing their creative work, this unit provides an "insurance policy" against audio file obsolescence. 1-bit audio masters will always sound great, not degrade and easily convert into any current PCM format or future audio delivery method yet to be devised.
The MR-2000S will play and record the audio files for DVD-Audio, Super Audio CDs (DSDIFF) and 1-bit DSD at 2.8- and 5.6MHz sample rates. It will also record in PCM WAV up to 192 kHz and 1-bit DSF and WSD at 2.8 and 5.6MHz sample rates. For file archival and management, all audio is stored on its internal 80GB drive and is accessed using a USB 2 interface. Multiple MR-2000S units can be linked for multitrack recording via S/PDIF interconnection.
In the Studio--NOW!
The unit's front panel has a backlit menu display for naming and setting up project folders of audio and settings files. Once you've named a new project and begin recording, the new project appears in the Library listing. You cannot pre-name projects--empty folders to record into later. I decided to name projects after the songs in an album mix project so all of that song's various mixes reside in the same folder. The menu has a System area for selecting sample rate, input source (analog or digital), clocking, file type creation, meter scaling, input level, and USB mode. USB mode suspends operation to access MR's hard drive.
Toe-to-Toe With 1-Bit
For the setup, I configured my Pro Tools system so I could record simultaneously to a stereo pair "inside the box" and to the MR-2000S using both the unit's analog and digital inputs. For my first recording test, I clocked the unit from my Benchmark Media ADC-1 converter/clock at 44.1kHz using the Word Clock in/out BNC connectors and made a S/PDIF connection from my Avid HD192 interface and the MR-2000S.

Korg 1-Bit Recorder Line

Next, I recorded the same mix using the analog outputs of my Digidesign HD192 IO connected to the MR-2000S' analog inputs. I chose 1-bit at 5.6 MHz as my sample rate and calibrated the Korg's analog input to -18 dB (18 dB of headroom) just as my HD192 is calibrated.

I was shocked. Logic tells me that the extra D/A (HD 192) and A/D (MR-2000S) conversions should be detrimental to sound quality. In this case, they were not! The 1-bit "analog" version sounded warmer, more transparent and clear, plus apparently slightly louder. The 44.1kHz digital and inside-the-box versions sounded okay, but not as "beautiful" as the Korg's.

Next, at a local studio with a large vintage '70s API console, I A/B'd the output of the console with MR-2000S' output, made possible by simultaneous operation of the Cirrus Logic CS4398 D/A and Burr-Brown PCM4202 A/D converter sections while in record or record/pause modes. After calibrating the analog input with a 1kHz tone so that the MR-2000S and console levels matched exactly on the console's stereo meters, I recorded a mix of an acoustic jazz trio at 96kHz/24-bit in Pro Tools.

I did this A/B first thing in the morning with fresh, rested ears and was hard pressed to hear any difference! "Difference" is almost too strong of a word to describe the extremely subtle change between the MR-2000S at 5.6MHz/1-bit and the console's stereo bus.

The console output "might" have very minimal better sub bass but the 1-bit was nicer in the top. At this point I'd have to check the fidelity of the monitor paths and patch bay to verify if they weren't causing these super small differences. This test completely sold me!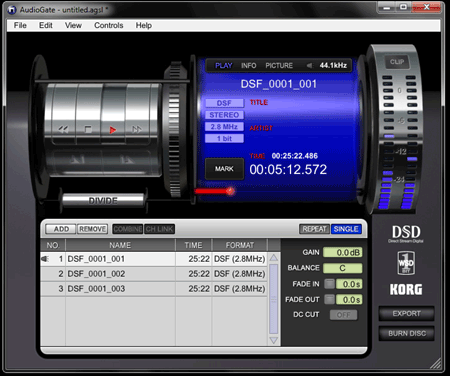 AudioGate 2.20 Screen Shot
AudioGate 2.2
While in USB mode, I copied all audio files in the MR-2000S to my computer to use the included AudioGate (Mac/PC) software. AudioGate 2.2 allows for playlist generation, audio file-format conversion, file division for parsing long performances into individual segments, file joining, gain change, normalization of individual files or entire playlists, fades, adding or removing markers, link mono files into stereo and more. Other formats supported include MP3, Broadcast WAV, AIFF, DSF, AAC, ALAC, FLAC files and WMA. A choice of either Korg's AQUA or standard TPDF (Triangular Probability Distribution Function) dither is applied before PCM word-length reduction.
Projects (songs) of disparate formats can be arranged in any order in a playlist and then exported in any of the previously mentioned formats. There is direct burning of music CDs and DSD (2.8 MHz only) audio discs which can be played back on a growing number of devices, such as Sony Playstations and Vaio computers. There is also support for album artwork and CD-Text data.
The new 2.2 version supports several of the new features of Mac OS X 10.7 (Lion). There is Auto sample rate switching; this function can automatically switch the sample rate of the audio device to match the sample rate of the current song. The Songlist function automatically opens the most recent songlist when AudioGate starts.
AudioGate's Play, Pause, Fast-forward, Rewind, Next song and Previous song functions are remotely controlled using the Apple Remote. There is also support for the new WASAP1 audio driver available with Microsoft Windows Vista and Microsoft Windows 7.
Korg's AudioGate software is included with all MR Series recorders and is available for free to everyone: Here.
I found AudioGate extremely easy and intuitive to use, and I recommend a fast computer and disc burner as DSD files are large--offline processing takes some time.
The Future Is Clear---Very Clear!
The future is clear: the ubiquitous adoption of this superior format made possible with the Korg MR-2000S. The Korg MR-2000S uniquely provides a future-resistant and elegant archival solution for audio/studio professionals. The MR-2000S' portable single-rackspace size, ease of operation, internal 80GB hard drive and included AudioGate format-conversion and editing software make it a prescient and prudent investment for anyone who wants to step up to 1-bit.
Barry Rudolph is an L.A.-based recording engineer. Visit his Web site at: WWW.BARRYRUDOLPH.COM
---

Click Here To Return To The Mix Directory

This Review Is Copyright © 2009 Through By New Bay Media LLC All Rights Reserved.



All Web Page Design Is Copyright © 2009 through By Barry Rudolph