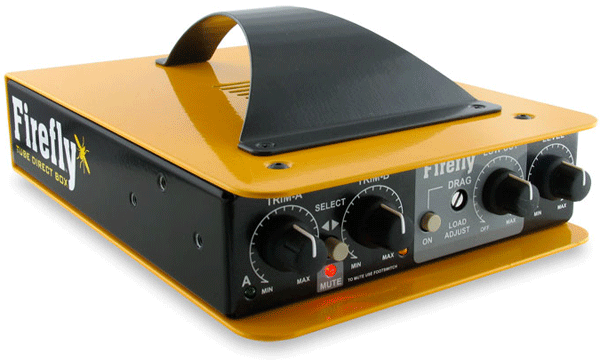 Radial Engineering Firefly Tube Direct Box
The Firefly is a dual-input direct box that uses a single 12AX7 running Class-A. It comes painted "taxicab" yellow in a rugged, all-steel enclosure measuring 5.75 x 1.75 x 8.25 inches (WxHxD) with a carrying handle.
Firefly's utility begins with the protruding frame of the cabinet's cover that protects the front panel's controls and switches from accidental access or damage. Configuration switches and trim pots that are used less-frequently are recessed on the unit's rear, side and front panels.
The Firefly's A and B inputs have separate level controls and allow for two instruments to be plugged in at the same time. You can preset and balance the volume/record level of both a high-output bass guitar with active pickups/electronics on the A input and the low output of an acoustic upright bass with a piezoelectric pickup system on input B. The Select button silently switches between A and B while the Level control sets the unit's final output level.
The front panel also has a 25 to 500Hz variable low-cut filter and the Drag push button switch. Drag is a way to load passive pickups for the same feel and sound as if they were driving the input impedance of a guitar or bass amp. Firefly's nominal input impedance is 4 meg-ohms, but with Drag on the front panel's recessed screwdriver control varies it from 22 to 500k ohms.
Flush-mounted rear panel 1/4-inch jacks include A and B instrument inputs; an "always on" buffered Tuner output; the Aux/Thru Output jack for connection to a stage/studio amplifier; and a TRS jack for connecting Radial's JR-2 footswitch for A or B switching and output muting. There is also a TRS jack for a buffered send/return insert path, but no onboard bypass switch. The insert point is after the tube stage but before the Level control.
The rear panel finishes with a balanced microphone level XLR output from an Eclipse ET-MS10 transformer and a five-pin XLR power connector to accept the OEM line lump power supply's ±16-volts and the tube's 48-volt plate supply.
The recessed configuration switches on Firefly require (preferable) an insulated tool to toggle them. There are switches for ground lift, polarity and, on the side of the unit, a switch for separate transformer isolation of the Aux/Thru path or not.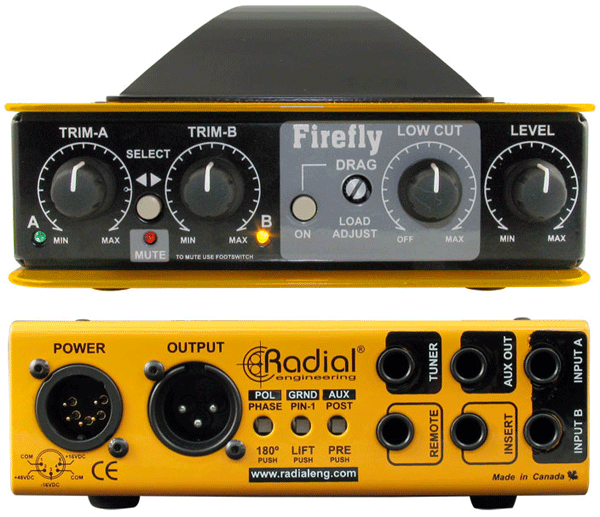 Radial Engineering Firefly Tube Direct Box-- Front and Back

Finally, an important recessed switch changes the 1/4-inch Aux/Thru signal chain completely. When Pre is selected, the buffered feed from your instrument is passed on to your stage/studio amp--a direct box thru. When Post is selected, the final sound of the Firefly includes the tube stage HPF, and insert loop effect as the main XLR output is "mirrored" on the Aux/Thru jack--tube preamp mode.

To avoid a ground loop, I plugged both the amp and Firefly into the same AC wall socket. On powering up, the unit mutes for about 45 seconds while the tube stabilizes. I set the Aux/Thru switch to Pre and switched Drag off. The buffered signal of my stock Fender Strat went to my Fender Blues Junior out in the studio and the Firefly's XLR output was recorded using my Sunset Sound S1P mic preamp. The sound was clean, clear and with no hum or noise--exactly as my Strat sounds.

I found the buffered output sent to the amp using a 25-foot cord to have the same sparkle and life as when using a short cord straight out of the guitar.

The fun started when I set the Aux/Thru path to Post. The entire sound of Firefly is available for both the amp and the XLR connector at the same time. I found this especially good for direct guitar and bass recordings. It was easy to add some "hair" to overly clean bass sounds; and for guitar, the Firefly offered a new shade of coloration as a tube preamp in front of the guitar amp itself.

In Post mode, all Firefly settings including the Level control affect both the amp's volume and the record level. By cranking up the gain on an input and throttling back the Level control, I could hear the strong saturated sound of the 12AX7 coming into play.

I experimented with the Drag control. Drag does not affect instruments with active electronics, but it does affect the way instruments with passive pickups feel, play and sound. For a direct guitar overdub I started with Drag at the extreme, all the way counter-clockwise at 22k ohms. This produced a very thick, sluggish-responding "dead" and rolled-off sound with no sustain at all! While my guitar player perfected the part for the song, I slowly turned the Drag's screwdriver adjustment clockwise to partially unload the pickups and restored just the right amount of brightness. Even though Drag is a fiddly screwdriver control, I found both it and the HPF to be useful musical controls in the studio.

Firefly is a great utility piece of studio kit for musicians, studios and FOH engineers to have on hand. It is rugged and fully adaptable to any situation in a studio session or onstage. Recommended!




Try This!

The Tuner output of Firefly is always on, so use it to drive an effects pedal or a secondary guitar amp without affecting Firefly's operation.


-- Barry Rudolph

Barry Rudolph

Barry Rudolph is a recording engineer/mixer who has worked on over 30 gold and platinum award-winning records. He has recorded and/or mixed Lynyrd Skynyrd, Hall & Oates, Pat Benatar, Rod Stewart, The Corrs, and more.
Barry has his own futuristic music mixing facility called Tones 4 $ Studios and also teaches audio engineering at: Musician's Institute, Hollywood, CA..

He is a lifetime Grammy-voting member of NARAS, the 'New Toys' columnist for LA's Music Connection Magazine, and a contributing editor for Mix Magazine.
www.barryrudolph.com www.gearlust.com

Radial Engineering

Web Site: www.radialeng.com

Product: Firefly Tube Direct Box

Price: $599 MSRP

Pros: A worthwhile, flexible piece of musical equipment for studio and stage.

Cons: Some of the controls and switches are not easily accessible.
Barry Rudolph is an L.A.-based recording engineer. Visit his Web site at: WWW.BARRYRUDOLPH.COM
---

Click Here To Return To The Directory Of Mix Magazine Reviews

This Review Is Copyright © By New Bay Media LLC. All Rights Reserved.