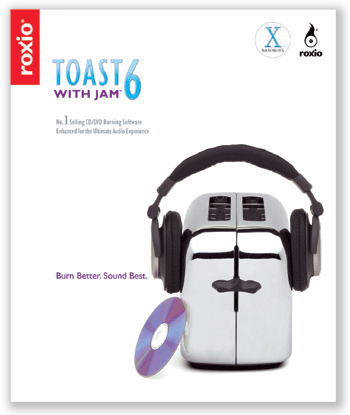 Roxio's Toast with Jam 6 ($199, $99 without Toast) is a wonderful collection of applications bundled with Toast 6 Titanium and Jam 6, its Redbook-compliant CD master program. Made for Mac OS X 10.2 or above, Toast with Jam 6 is a complete set of tools that readies your raw audio, images, data or digital video files for burning a fast CD/DVD copy or an error-free CD master disc for mass replication. Toast and Jam burn Disk-At-Once (DAO), Track-At-Once (TAO) and multisession discs. It also integrates BIAS Peak Express 4.1, a stereo audio editing/mastering program for building song lists, doing crossfades and normalizing (mastering a CD's or a DVD-V's audio before burning in Toast or Jam). Peak uses Roxio and BIAS VST and AudioUnits plug-ins and includes BIAS' Freq EQ (when you register) and an assortment of MDA AudioUnits plug-ins.
New features make this popular "drag 'n' drop" program seamless. Toast It™ burns from the desktop with no initialization or disc-checking; ToastAnywhere™ lets you share CD and DVD burners across your network; and CD Spin Doctor 2 digitizes vinyl or old cassettes. Once the audio's on your hard drive, you can define tracks, reduce surface noise and hiss and add VST effects. Toast burns audio CDs, music DVDs or MP3 discs ("Save As MP3" is possible after downloading the free LameLib.bundle from www.homepage.mac.com/awk/lame); PC/Mac/mixed-data CD-ROMs and DVD-ROMs; DVD/VCD/SVCD video discs; enhanced or mixed-media CDs; or disc "clone" (except commercial DVD movies). An automatic Universal Audio Converter will burn from .WAV, .AIFF, MP3, .AAC or iTunes files.
You can make self-extracting, data-compressed Mac-only discs and designate which Mac OS can read them. I liked the 128-bit encryption for password-protecting Mac-only files and the new Déjà Vu automatic backup utility. Toast burns videos directly from DV camcorders plugged into the FireWire port or from iMovie, and you can extract video and audio from iDVD or a Toast disc using the Universal Video Converter. Video file support includes .dv, .avi, .mov and .mpeg 1/2/4. The new Motion Pictures application creates Quicktime movies out of still-photo image files with panning and zoom effects. Built-in Dolby Digital encoding compression is used for DVD-A and DVD-V with a single disc holding up to 36 hours of music or two hours of good-quality video.
Jam 6 is a stand-alone app for creating professional CD mixes and for finalizing and mastering commercial CDs. Jam 6 sets up track lists, titles, pauses and playback order; does nondestructive crossfades, trims and gain adjustments; sets track start and length; and adds PQ subcodes, ISRC data and more. A CD can have up to 99 tracks, but using Peak, you can parse audio files into regions and add index markers throughout any file. Jam 6 checked my work, ensuring a good "ready to replicate" master CD.
Toast 6 is DVD+R Double Layer (DL) compatible (with a free update from Roxio's Website), recording nearly 8.5 GB of data or more than three hours of MPEG-2 (DVD-quality) video on a single DVD+R DL disc. Easier to use and offering more control, more file format options and a superior graphical interface than iTunes, Toast 6 with Jam is a real workhorse for everyday CD/DVD burning and preparing master CDs.
Roxio, 905/482-5200, www.roxio.com.
Barry Rudolph is an L.A.-based recording engineer. Visit his Web site at: WWW.BARRYRUDOLPH.COM