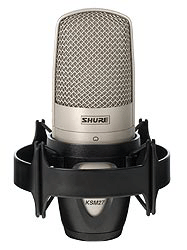 I can't help but "feel the love" from a company that broadens its product line by offering a lower-priced model that could directly compete with its existing line. Retailing at $575, the all American-made, cardioid-only KSM27 from Shure is one of the best values around. It's a great new mic that stands out in a plethora of models that have debuted recently. The KSM27 is the third studio condenser microphone in the Shure line, following the KSM44 multi-pattern mic and the cardioid-only KSM32. Actually, the 27 was chosen to replace the KSM32 used on Jay Leno's desk on the new set of The Tonight Show With Jay Leno.
Like the KSM44 and KSM32, the KSM27 is a side-address condenser design. The KSM27 uses a 1-inch, externally biased, gold-sputtered, layered Mylar diaphragm like the KSM44. And like both the 44 and 32, the 27 uses a Class-A discrete and transformerless preamplifier with gold-plated internal and external connectors. One immediately noticeable, unique feature that separates the 27 from the other two mics is its diminutive size, just over six inches tall. I loved that I could place this mic in just about any tight situation using the optional ShureLock swivel adapter. (Actually, I borrowed the swivel mount from my KSM44, and it worked just fine!) The KSM27 comes with a rubber-isolated shock-mount and also has internal shockmounting that reduces stand and handling noise. There is a built-in pop grille with three separate mesh layers to reduce plosives. Shure thinks of everything!
Despite the 27's smaller size and price, Shure didn't cut the features you'd expect from a good studio condenser, such as a three-position LF roll-off filter with options for flat, -18 dB per octave cut-off at 80 Hz, and -6 dB per octave roll-off at 115Hz settings. There is also a switchable -15dB attenuator pad that was perfect for close-miking drums and guitar cabinets. Both the KSM44 and 32 beat the 27 in dynamic range by only a couple of dB, with all three equal in maximum SPL rating at around 138 dB (153 dB without pad). The 27 matches the 32 with an 81dB signal-to-noise ratio spec, while the KSM44 offers a better 87 dB in cardioid pattern. Self-noise for the KSM27 is a low 14 dB.
A/B WITH THE BEST
Before a session, I set up A/B comparisons of the KSM44, KSM32, KSM27 and, for a reference to my ears, a Neumann U87. The multi-pattern U87 and KSM44 were set to cardioid. For this subjective test, I used my own speaking voice and a pair of loud headphones. I don't have the acute hearing of someone like Klaus Heyne who uses this same method for tuning the capsules of his mics but it is easy for me to hear the differences when comparing mics or different signal processing chains. I had an assistant quickly mute and open each mic by way of my hand signals, from out in the studio. I used an AKG outboard phantom power supply and level-matched four inputs of the lovely API console at LAFX Studios in North Hollywood.
The 27 has a slight bump in the 50 to 70Hz area, and a smooth rise starting at about 3.5 kHz up to about 8 kHz. From there, high-frequency response dips very slightly and then continues its rise out to about 15 kHz. Checking the printed frequency response curves supplied by Shure for the three mics, I confirmed my preference for the 27 over the KSM32. The KSM32's chart shows a flat, low-frequency response and an irregular contouring of the high frequencies between 2 kHz and 12 kHz. More like the KSM44, I found the 27 to have a sweet and smooth HF lift.
By comparison, the U87's high frequency was all there, in a more noticeable way. (Read that as "personality") I have to say that this particular stock U87 sounded a little rolled-off in the bottom end compared to the 44 and 27. The KSM44 has a very solid low end with a much drier and cleaner sound (its self-noise is only 7 dB) than any of the others. The KSM32 is a little thinner, but more importantly, doesn't have the low-frequency warmth of the 44. Compared to the others, the KSM32 has more of a somber quality from the midrange through the highs; I could see this mic working well for edgier voices. The 27 has good low frequencies (especially down to the subsonic), a warm, lower midrange and a clear upper midrange. Sibilants were clear and most importantly, clean for all the mics, with the 87 and 27 a touch crisper.
Specifications KSM27
Polar pattern: cardioid, externally biased condenser capsule
Frequency response: 20 to 20k Hz
Output impedance: 150 ohms
Attenuation switch: -15 dB
Phantom power: 48 VDC (5.4 mA)
CMRR: greater than 50 dB, 20 to 20k Hz
Dimensions: 2.2 inches diameter, 6.15 inches long, 22.6 ounces
Sensitivity: -37 dBV/PA
Self-noise: 14 dB
Maximum SPL @ less than 1% THD with 2,500-ohm load: 138 dB or 153 dB w/pad
Maximum SPL @ less than 1% THD with 1,000-ohm load: 133 dB or 148 dB w/pad
Output clipping level @ less than 1% THD with 2,500-ohm load: 7 dBv
Output clipping level @ less than 1% THD with 1,000-ohm load: 1 dBv
Dynamic range w/2,500-ohm load: 124 dB
Dynamic range w/1,000-ohm load: 119 dB
Signal-to-noise ratio: 81 dB
IN THE STUDIO
I used the KSM27 in the studio for drums, acoustic and electric guitars, and vocals. It is one of the most versatile mics I've used lately. I miked a bass drum about a foot away out front. I usually like a U47 FET for this ambient sound and hope that with both the pads switched on the Neumann, it doesn't overload. Here, I had no overload problems with the 27 in fact, I didn't even use the -15dB pad.
Next up, I miked acoustic guitars with the 27 and A/B'd the 27 with the producer's Sanken CU-41. The Sanken is a warm microphone that, in this case, made me want to reach for the equalizer on my Neve 1084 module. Here, the Shure KSM27 was a better choice, as I found little need to equalize unless I needed to "carve" the guitar's natural sound to fit the track's hyperbolic production.
Vocals went well, with the added low-end warmth of the 27 bringing out whatever little bit my singer had. It was almost like a proximity effect, without getting as close. Finally, electric guitar cabinets sounded great with the KSM27. You should use the -15dB pad here, because the 27 puts out a good hot level and your preamp will be at its minimum gain setting.
Priced at $575 MSRP, the KSM27 comes in a protective velveteen pouch and includes a ShureLock rubber-isolated black shock-mount. Optional accessories include an aluminum carrying case, foam windscreen, PS-6 Popper Stopper, and a padded, zippered carrying bag. Whether it's your first studio mic or something to expand your mic locker, the KSM27 is a wonderful addition to any microphone collection. Its small size and versatility, qualities that made the Shure SM57 ubiquitous, belie its big sound.
Shure Inc., 222 Hartrey Ave., Evanston, IL 60202; 847/866-2200; fax 847/866-2279; www.shure.com.
Barry Rudolph is an L.A.-based recording engineer. Visit his Web site at: WWW.BARRYRUDOLPH.COM