Ableton Live 1.0 Sequencing Instrument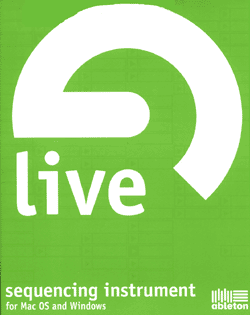 From Berlin, Germany comes Ableton and their Live 1.0, the first audio sequencer for live music performance. There are two main windows in this PC/MAC program: Arranger window where a matrix of audio clips are available for instant, live "on-the-fly" playback and the Session window where the same clips can be organized or sequenced into cohesive, preprogrammed songs. Unique and essential to Live 1.0's operation is that your song "set" plays continuously without glitching while you manipulate all controls, edit sounds, import sound clips from disparate sources, insert effects, change the arrangement or anything else!
For the performing DJ, Live represents an entire new system to achieve tempo and pitch correct remixes in a live performance environment. I like that, just as any live music performance, DJs using Live will play a different performance every night. All the samples/clips used are immediately analyzed and adjusted to the tempo of your song in real time and without changing pitch. I also liked using drag-and-drop to put together any sequence of effects for sound editing at any time...even while the music continues to play. Every action during a session can be recorded and is editable including all automation of the mixer and effects. Live hosts VST plug-ins and ReWire client applications, and synchs to any MIDI clock source. The ASIO and DirectX compatibility's enable multiple inputs and outputs, and pre-listening to samples and tracks via headphones. Great Live features are: record, loop, effect, resample, jam live, and launching new sounds without ever stopping the music.
Live 1.0 is $349 MSRP and is distributed by MIDIMAN at 45 E. Saint Joseph St., Arcadia, CA, 91006; Tel: 626-445-2842. Go to: www.midiman.com or www.ableton.com for a free demo download.
---