Ableton's Live 3.0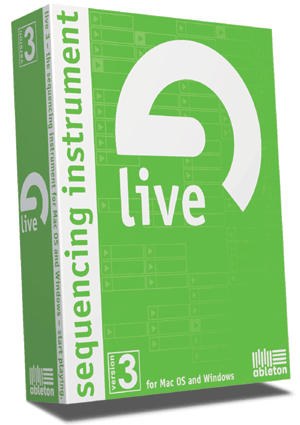 Ableton describes Live 3.0, the latest iteration, as "the world's first audio sequencing instrument." For this New Toy, producer David Gamson helped me outline Live's tremendous potential to manipulate and mangle audio in real time.
In the Session View, you can trigger loops and samples either from a MIDI keyboard or your computer keyboard and create a performance using all the tools within Live (effects, faders, panning, etc.). With every move recorded, there is no need to break the flow and stop every time you instantiate a plug-in or pull in a new piece of audio--everything can be done on the fly--Live. When you're finished with your performance it can be edited in the Arrange View using a time line similar to the arrange page in most software based MIDI sequencers.
Though you can record audio as well, it is not primarily intended as a DAW. What makes Live unique is the "elastic" way audio is dealt within it. Earlier versions liberated the user from the constraints of the audio's original tempo and now Live 3.0 adds independent "envelopes" to audio clips enabling you to draw pitch, volume, warping, mixer and effect parameters over each audio clip. If you have a two bar drum loop that's playing a 16th note hi-hat figure, each 16th note could be manipulated in time, volume, pitch, warping, mixer and effect parameters independently. Additionally, the envelopes can be made independent of their original audio clip for reuse over other audio clips.
Live 3 also now runs as a Rewire client so tempi are locked between the host program (Nuendo 2.1 in our case) and either program's transport will start and stop the other program. Furthermore, all of Live's outputs miraculously show up in Nuendo's mixer.
Other new features are: Consolidate turns each track within a select range into new clip for instant reuse; there are five new Resonators for effecting tonal character in many radical ways; Compressor II, a frequency conscious peak and RMS dynamics processor; EQ Three is a three-band DJ style equalizer; Quantization menus now include triplet note values; VST plug-ins now supported; and full clip control for playing clips either from RAM or disk. Live 3 is available at your local dealer and the Ableton Webshop for EUR/US$ 399. Visit www.ableton.com
---