Storm Music Studio 2.0 from Arturia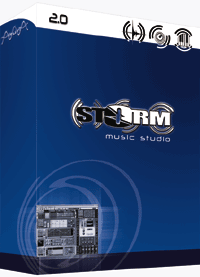 Version 2.0 is the latest update for Storm Music Studio by French company, Arturia. Storm is a complete virtual studio software package that integrates and connects several included modules for performing and sequencing music, sampling, synthesis, mixing and effect processing. All you'll need to write and record any kind of music, Storm Music Studio 2.0 has several enhancements over version 1.5 and runs on either MACs or PCs.
The new Hall module enables you to join the worldwide community of Storm users by working together "live" online. Initially the service has: news, chat, file sharing (peer-to-peer), tips and tutorials. Composition Wizard assistant will help users to compose and arrange their songs. Different song templates and tutorials will be available for each style of music: Dance, House, Hip-Hop etc. Shadow (a powerful analog-sounding chord synth), Vocoder and Compressor are included in the studio as standard modules. Storm Music Studio 2.0 has 23 instruments and effects.

Other new things with 2.0 are: support for Mac OS X and Windows XP; redesign of the sound synthesis algorithms of modules Equinoxe (chord sequencer), Bass 52 (bass guitar) and Chorus (effect); and redesign of the interface on modules Arsenic bassline synth, Distortion and RingMod. There are also improved sample libraries, improved registration procedure and the ability to import several samples simultaneously.
For much more, visit www.arturia.com
---