CS-80V Soft Synth From Arturia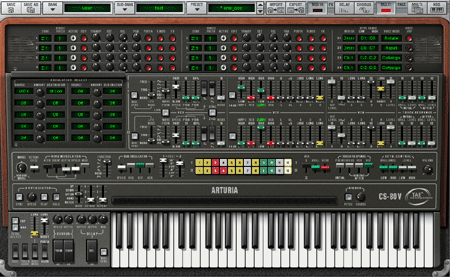 From Arturia, the French company that brought you the virtual Modular Moog V, comes a recreation of another legendary vintage synth, the CS-80V. This is a soft synth replica of the 220 lb behemoth Yamaha CS-80, much beloved of prog rockers from the 70's and early 80's like Jean-Michel Jarre, Vangelis, and Eddie Jobson. The CS-80V offers all the features of the original synth (even the ribbon controller), plus a new generation of innovative features like a modulation matrix, a multitimbral mode, stereo delay and an arpeggiator.
With the sheer number of virtual synths available these days it's easy to become a little jaded, but the CS-80V and Moog Modular are really in a class of their own. Arturia uses a proprietary technology that they call TAE™ or True Analog Emulation that is designed to faithfully recreate the sound of analog circuitry by avoiding aliasing and emulating the typical instability of hardware oscillators.
It works! The sound of this synth is incredible. It can go from smooth pads to biting leads and the over 400 included presets (created by various famed synthesists) show off a very good range of what this instrument is capable of. Many times with software synths, through the use of delays, chorusing, and a range of other effects the presets can sound impressive on their own but end up being unusable in anything other than a completely electronic track. Strip away all the effects and you end up with digital oscillators that sound thin making synth patches stick out like a sore thumb amidst organic sounds.
The CS-80V is really the closest anyone has gotten capturing the warmth and size of what vintage synths are really like. We found it very easy to dial in a sound and have it work in the context of a song that had both organic instruments and other real vintage synths (like an ARP 2600 and a MiniMoog) without sounding out of place at all.
Minimum systems required: Pentium II 500 MHz, 128 MB of RAM, Windows 9x/2000/ME/XP or Mac G3 500 MHz, 128 MB of RAM, OS 9.x or OS X 10.2. Compatible with DirectX, ASIO, SoundManager or CoreAudio, the CS-80V sells $249 MSRP and for more information, visit the Arturia website at www.arturia.com.
---