Arturia's MiniMoog V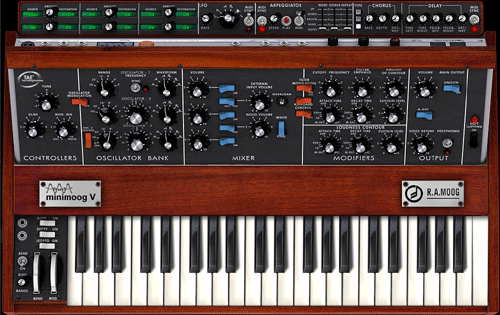 The MiniMoog V is a software-based emulation of the famed Mini Moog synthesizer and comes from Arturia who first brought you the Moog Modular V and Yamaha CS-80V synths. Again TAE® or True Analog Emulation gets the sound right with sharp filters, soft-clipping and alias-free oscillators. Everything from the original hardware unit is available on the realistic GUI including: three VCOs with the same choices of original waveforms; mixer with overload circuitry; the same 24dB/octave low pass resonant filter; two ADS envelope generators; and external audio input.
Being a virtual synth that installs in both PCs and MACs and runs standalone or as a plug-in in VST, DXI, MAS, RTAS, HTDM or Audio Units environments, one of the main new additions (over the original hardware unit) is the ability to save sounds and use any of the more than 500 presets included. Once you call up a preset, you can adjust and hear the results just like the original synth. Furthermore a pop up window shows the value instantly of every knob you touch. When you click and enter Open mode, an all-new extra panel slides out above the main panel. There is a modulation matrix with six different connections from twelve sources and 27 possible destinations; a new LFO that can sync to the host sequencer or sync Oscillator 1 to Osc 2--you can mimic the original Mini's instability or not; a syncable arpeggiator; and a three-mode chorus and stereo digital delay.
In the studio I compared the MiniMoog V to an original Mini Moog that had only a MIDI adapter added. On most sounds there is no difference. Some sounds on the original Mini sounded better based on the fact that its filters are tuned lower and differently than a stock Mini. This is by far the best virtual Moog I've heard since Arturia's Modular V synth--which is another Moog!
The MiniMoog V sells for $199 MSRP and for much more contact Arturia at www.arturia.com.
---