Moog Modular V from Arturia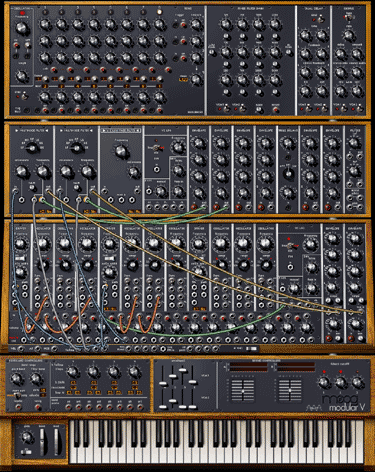 From France comes Arturia with the Moog Modular V, a computer emulation of the most famous and highly coveted synthesizer, the Moog Series III first commercially offered in 1965. Years ago at my first studio job, I had access to a Series III P (portable version) and that history makes me appreciate this virtual version all the more. Gone are all the rough edges and quirky monophonic operation. The horrible pitch stability replaced with wonderful sounding, non-aliasing True Analog Emulation® oscillators. Scratchy pots, dodgy jacks and patch cables are replaced by virtual controls with "click and connect" animated patch cords and over 400 patch memory presets created by many famous synth sound designers.
Modular V copies and models the complete module line up of the original. There are nine, 921 Moog Series oscillators; two dedicated LFOs; three filter slots that can be any of the Moog 904 Series filters like a 24dB low pass or high pass or use the filter coupler for making bandpass or band reject filters; one 923 noise generator; six ADSR envelope generators modeled on the 911 Moog module, two final output VCAs; and 16 aux VCAs with modulation inputs. A second screen has the original Moog 960 sequencer, a 3X8 step-style system; one 14-band filter bank module; and both stereo delay and chorus modules the original Moog Series III didn't have.
We liked the automation where all sequencer (which locks to MIDI tempo or not) and filter changes are recorded in your computer's MIDI sequencer. There were some intermittent oscillator anomalies and it would be great if you could just type in values rather than always "mousing" to a number. With 64-voice polyphony, there is a full-performance controller screen for playing all sounds in stereo.
A complex plug-in that sounds great, Moog Modular V runs as a standalone synth or as a virtual instrument up to 32-bits/96kHz using VST, MAS, RTAS, HTDM or the new Audio Units in either a MAC (OS9 or X) or PC running Windows 95/98/ME/2000/XP. Modular V sells for $329 MSRP and for much more visit www.arturia.com.
---