Storm 3.0 from Arturia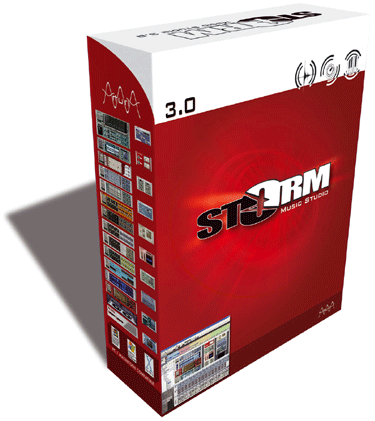 Version 3.0 is the latest update for Storm Music Studio, a complete virtual studio software package that integrates and connects several included modules for performing and sequencing music using sampling, synthesis, mixing and effect processing. All you'll need to write, record and collaborate with others on-line using the Hall module, any kind of music. Storm Music Studio 3.0 has several enhancements over version 2.0 and runs on either MAC OSX or PCs under XP, 98 or 2000.
New to 3.0 is one main screen view to manage your entire project including a newly designed mixing interface with EQ. 3.0 also now allows for unlimited rack space for as many synths and sound modules as your computer can handle! (On-board are 14 instruments and 10 effects including a new General MIDI Synth with 220 sounds.) The new audio/MIDI sequencer adds more professional features like the piano roll view and MIDI file import.
At $149 MSRP, Storm 3.0 is compatible with Cubase™, Logic Audio™, Live 4.0™, Rebirth™, Reason™ and Cakewalk Sonar™ or through ReWire 2.0. Storm 3.0 uses full 44.1kHz sample rate and .wav, .aiff, or .mp3 files can be imported/exported. Storm's North American sales and distribution is handled by www.thinkware.com/. For much more, visit www.arturia.com.
---