Ashdown's ABMC410H Bass Magnifier Amp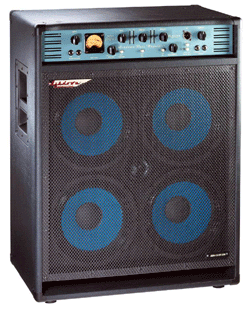 The new Ashdown ABMC410H Bass Magnifier hybrid design uses a dual triode tube in the pre-amp section for warmer tone and many MOSFET power transistors in the output stage. Rated at 576 watts RMS or 900 watts peak into 4 Ohms, this advantageous design also includes a unique sub-harmonizer circuit that produces a perfect, octave down signal you can blend with your original using the front panel mixer. There are slow running fans to cool both the output amp and the power supply's and its massive toroidal transformer.
Four, ten-inch Ashdown BlueLines™ drivers and a single horn are used to achieve any possible bass sound now known to man. Other extras include: non-corrosive gold-plated jacks; a high-grade plywood cabinet that's screwed and glued; 16 gauge all-steel electronics chassis; and metal bar handles.
Weighing 46kg or 101.2lbs and measuring 786mm (30.9") wide by 609mm (24") high and 335mm (13.2") deep, the ABMC410H Bass Magnifier sells for $1,999 MSRP. Ashdown Engineering is exclusively distributed in the USA by HHB Communications USA Inc. at 1410 Centinela Avenue, Los Angeles CA 90025-2501. Telephone them at 310 319-1111 or Web to www.hhbusa.com
---