Audio-Technica 5000 and 4000 Series Wireless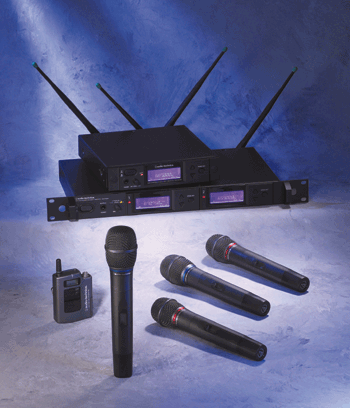 Both Audio-Technica's 5000 and 4000 Series wireless systems feature true-diversity, frequency-agile operation and multiple configurations. They both have digital Tone Lock™ squelch, a system that ignores any RF signals that do not carry the wanted signal's unique signature. This "digital ID" is embedded within the transmitter's signal enabling the receiver's audio output when present.
The 5000 Series begins with the AEW-R5200 true diversity frequency-agile dual receiver, which comprises two independent receivers in a single rack space. There are two hundred selectable UHF channels in the range of 655.500 to 680.375 mHz, with an operational range in excess of 300 feet. Using the same set of channels, the 4000 Series AEW-R4100 receiver uses only one half-rack space. Multiple receivers of either series can be linked, and both feature IntelliScan™ frequency selection and dual compansion; circuitry that compresses and expands low and high frequency audio signals separately, maximizing audio quality and minimizing artifacts such as pumping and breathing. The 5000 series receivers have Ethernet ports for monitoring system parameters via the supplied Macintosh® or Windows® software.
There are five wireless transmitter options available. The AEW-T3300 and AEW-T5400 cardioid condensers are for superior clarity while the AEW-T4100 cardioid and AEW-T6100 hypercardioid dynamic handheld mics are noted for their ruggedness and forward sound. The compact AEW-T1000 UniPak® body pack transmitter works for any electric instrument with soft-touch controls and a recessed dual impedance input with adjustable level. All transmitters are compatible with either 4000 or 5000 systems, feature strong metal bodies, programmable on/off/mute switching, and 10 mW or 35 mW switchable RF power.
There are thirteen system configurations available in the 5000 Series and nine for the 4000. 4000 systems start at $959 MSRP or step up to a dual-receiver 5000 system starting at $3,119 MSRP. For more about these systems, you can call or write Audio-Technica at 330-686-2600 or WEB at: www.audio-technica.com
---