Artist Elite™ Series From Audio-Technica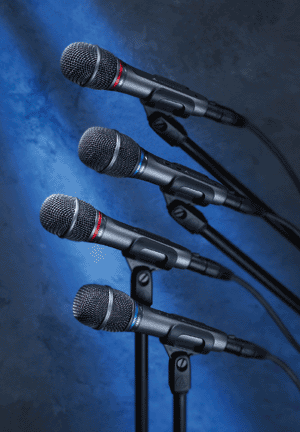 Artist Elite™ microphones are a series of four new handheld microphones (two condenser, two dynamic) for touring/live performance, club sound, broadcast, corporate facilities and worship spaces. The two cardioid condenser microphones, the AE5400 and AE3300, have aged vapor-deposited gold diaphragms and can withstand up to 157dB SPL volume levels. (Very loud!) The top of the line AE5400 is a true condenser with a one-inch, externally biased diaphragm. The 5400 is designed for vocals with a flat frequency response and a dynamic range of 133dB.
The AE3300 cardioid is an internally-biased condenser also designed for vocalists working in rooms ranging from large arenas to small clubs. The AE3300 has a dynamic range of 128dB and good feedback rejection for increased detail and clarity. Both the AE5400 and AE3300 operate using 11 to 52 volts phantom powering and come with switchable 80 Hz high-pass filters, -10 dB attenuator pads, integral shock mounted construction, multi-level windscreens and AT8470 Quiet-Flex™ stand clamps.
The new dynamic microphones in the Artist Elite Series are the AE6100 hypercardioid and the regular cardioid AE4100. Expect superior stage monitor rejection for better feedback control from the 6100 and a focussed, more aggressive vocal sound from the 4100. Both dynamic models have anti-shock engineering for low handling noise and include the AT8470 stand clamp.
MSRP prices for the AE5400 cardioid condenser is $579, the AE3300 is $439 and both the AE6100 hypercardioid and AE4100 cardioid microphones are $289. Contact Audio-Technica U.S., Inc. at 1221 Commerce Drive, Stow, Ohio 44224. Telephone 330-686-2600, Fax: 330-688-3752. Web to www.audio-technica.com
---