New A-T Elite™ Series Instrument Mics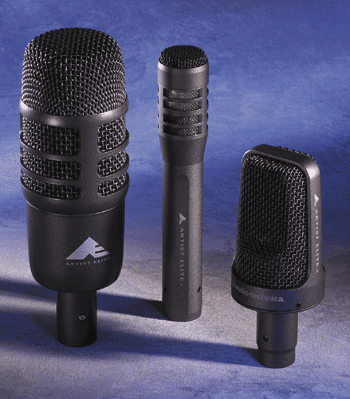 Audio-Technica expanded their Artist Elite™ line with three new instrument mics: the AE5100, a large-diaphragm end-fire cardioid condenser; the AE3000, a large-diaphragm side-address condenser cardioid; and the AE2500, a unique dual-element dynamic/condenser kick drum microphone. All of these mics come with 10dB attenuator pads and 80Hz high-pass filters and are ruggedly designed to endure loud stage volumes and the abuse of the road.
The AE5100 condenser is perfect for drum overheads, percussion or acoustic instruments where a natural or uncolored response is required. The AE3000 side-address will sound great when placed close to very loud instruments such as snare drums, tom-toms, guitar cabinets or drum overheads.
My favorite would have to be the AE2500 because you have two phase-aligned mic elements, a dynamic and condenser, in a single mic body. Besides being able to take the high sound pressure levels of a bass drum, the two elements' separate outputs let you use choose either the dynamic mic for attack or beater sounds or the condenser element to capture more of the overall tonality of the kick drum. The best of both worlds I reckon and I can't wait to process the two outputs separately and mix them together for the ultimate kick drum sound!
MSRP prices are: AE5100 and AE3000 are $379 while the AE2500 sells for $699. For more information contact Audio-Technica in Stow, Ohio at 330-686-2600 or go to www.audio-technica.com
---