Audio-Technica Midnight Blues Microphones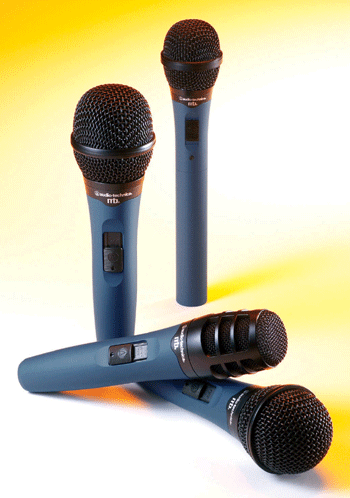 There are four mics in the new Audio-Technica Midnight Blues line. Sold with or without cables, these mics range from $49 to $139 MSRP and have all-metal construction, low handling noise by way of a special anti-shock design, and high output.
All with unidirectional polar patterns, the Midnight Blues line consists of: the MB1k dynamic vocal microphone; MB2k dynamic for instruments; the MB3k, an extended range dynamic vocal mic; and the MB4k, a condenser model. The MB2k, MB3k, and MB4k have a velvety soft-touch finish for a secure grip plus a protective pouch to store or transport the mic. All models are available with an optional fifteen-foot XLR cable.
At $49 MSRP, the MB1k is a great introductory performance mic designed for lead, backup, or choral vocals. Like all the dynamic mics in this line, it features Audio-Technica's Hi-ENERGY® neodymium magnet structure for maximum output and fast transient response. You'll also get a Magna-Lock™ switch for silent on-off operation, as well as a gold-plated XLR connector. All dynamic mics are accessorized with standard AT8470 Quiet-Flex™ stand clamp.
The MB2k is a mic designed to capture amplified and acoustic instruments with a tailored frequency response while the MB3k has extended frequency response to better capture lead, backup, and choral vocals.
The MB4k is an introductory studio-quality condenser microphone with all the rugged features of the dynamics. The MB4k is for the home or project studio with an extended frequency response plus battery/phantom operation for maximum versatility. In addition, the MB4k comes with an AT8405a stand clamp, battery, and 5/8"-27 to 3/8"-16 threaded adapter.
Backed by Audio-Technica's exclusive five-year warranty, these mics will be available by February 2004. For more information, contact Audio-Technica U.S., Inc., 1221 Commerce Drive, Stow, OH 44224. Telephone 330- 686-2600 or visit www.audio-technica.com
---