Audix F50 Band Pack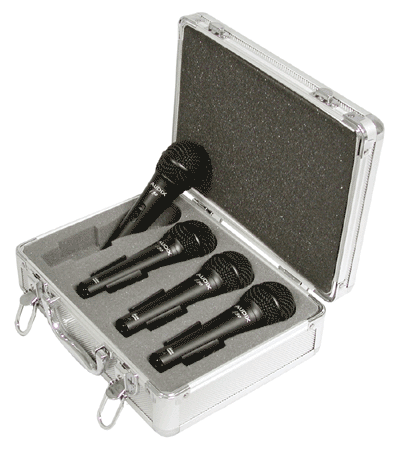 The F50 dynamic vocal mic is designed to handle both live performance and recording applications with a clear and accurate sound that's "voiced" with a slight, mid-range presence boost. Frequency response of this cardioid microphone is 50 Hz to 16kHz with the ability to handle sound pressure levels in excess of 135 dB. The F50 has a durable zinc die-cast body topped with a steel mesh grill ball with internal pop-filter and comes in a contemporary black satin finish. The mic comes in a cordura carrying pouch and a nylon stand adapter.
The F50 Band Pack is a matched set of four microphones: three F50 mics and one F50-S (with on/off switch), all packed in a stylish aluminum flight case. The F50 Band Pack is an excellent choice for musical groups, rental companies, schools, houses of worship, karaoke, and multimedia presentations.
Optional accessories include an external windscreen (WS357), and a 20-foot performance microphone cable (CABLE-20).
The F50 sells for $99 MSRP, F50-S is $109 and the F50 Band Pack goes for $299. For more information, contact Audix sales at 800-966-8261, or visit us on the web at www.audixusa.com
---