Audix I-5 Dynamic Mic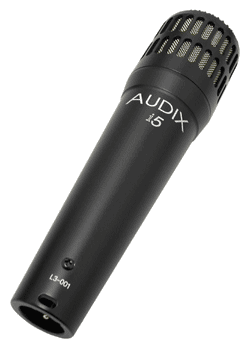 The I-5 is a dynamic cardioid microphone for any instrument miking application on stage or in the studio. The I-5 weighs only 8.6 ounces and is 5.5 inches long--a handy size to pack in your live sound kit. The I-5 features a durable cast zinc alloy body, dent resistant grill, and black E-coat finish. Fitted with standard XLR connector and 150 ohms impedance, the I-5 has a sensitivity of 1.9mV/Pascal @ 1kHz. Every model is attractively laser etched with its model name and serial number.
With a smooth and uniform frequency response of 50Hz to 16kHz and an ability to handle sound pressure levels in excess of 140dB, the I-5 can be used for a wide variety of applications in all genres of music. The I-5 sells for $179 MSRP and includes a heavy-duty mic clip and carrying pouch.
Call Audix at 800- 966-8261, or visit www.audixusa.com.
---