Azden Headworn Microphones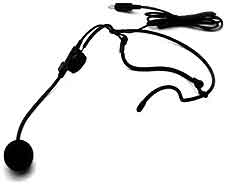 There are two new headworn microphones from Azden Corporation called the HS-12 Headset and the CM-20 Collar. The HS-12 is headworn with a pencil-thin gooseneck mic for exact over-the-mouth positioning. The over-the-ear design and elastic tensioner make fitting and wearing this rig very comfortable. The cardioid electret condenser microphone element has a 30Hz to 18kHz response and -48dB sensitivity. The HS-12 comes with a 3.5mm plug for $80 MSRP or a four-pin locking connector for $100 MSRP.
The CM-20 uses an omnidirectional microphone and is worn around your neck for a more obscured look. This is the mic to use for office presentations or less vigorous activities that the HS-12 might be used for. The same performance specs apply for it's condenser element and the CM-20 with 3.5mm plug sells for $85 MSRP and the CM-20H with four-pin connector goes for $105.
Azden Corporation is at 147 New Hyde Park Road, Franklin Square, NY 11010. Call 516-328-7500 or Web to: www.azdencorp.com/
---