Make Music Now! from Backbeat Books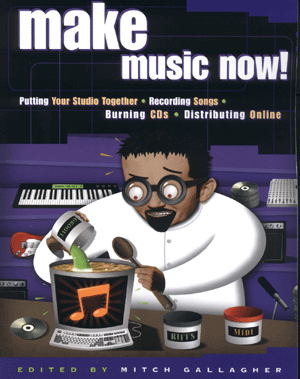 Edited by EQ Magazine editor Mitch Gallagher, Make Music Now! is an easy-to-understand book about setting up your own home studio. Reading and using this handbook is a necessary first step any novice or experienced musician should take before setting up at home for the first time. The book, divided into three parts, walks you through the many decisions and choices you make when buying and connecting musical and recording gear together.
"The Basics" section teaches you music technology, the fundamentals of sound, digital audio and how MIDI works. "Putting Your Studio Together" throws you right into the whole world of computers, hardware, software, room acoustics and troubleshooting methods to solve problems you will have. The third section is called "Make Music Now!" and puts together what you've learned to get you started writing, recording, producing and 'crafting' your own music. Subjects like recording your own solo album, loop-based music genres, CD burning and replication, ideas for studio projects and distributing music on the Internet are all covered.
With a complete glossary, Make Music Now! sells for $17.95 and is available from Backbeat Books at 600 Harrison Street, San Francisco, CA 94107. Telephone 866-222-5232 or Web to www.backbeatbooks.com




Make Music Now!
---