The Complete Pro Tools Handbook by Backbeat Books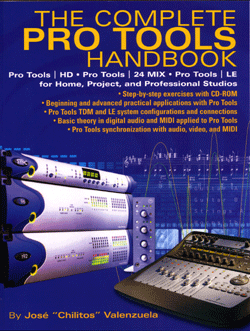 The Complete Pro Tools Handbook by Backbeat Books is the most comprehensive book on Pro Tools I've seen yet. About the size of LA's telephone white pages, this 528-page tome by José "Chilitos" Valenzuela covers all the PT platform versions from the lowly LE system to the newest, high-end TDM HD systems.
There are step-by-step tutorials saved on the included CD-ROM that are great for any beginner but also valuable to the advanced pro user. Besides getting a refresher course in digital audio and MIDI as used in PT, you'll be taught how to sync audio, video and MIDI together, record, edit, reformat and reorganize music to perfection.
Author Valenzuela breaks the book down into 'easy-to-get' chapters beginning with an introduction to the salient PT concepts along with some of the buzzwords casual Pro Tools users pickup quickly. Pro Tool's processes and powers are explained along with the use and caveats of irreversible editing. There is a whole chapter on Pro Tools LE systems and a chapter on configuring any system's hardware. The many software windows and dialog screens that come up during a session are also explained.
I like Chapter 5 called "Most Frequently Used Menus." It answered a lot of my questions about the options available during certain editing operations by way of special key commands and sub functions. Chapters 6, 7, and 8 explain recording, manipulating, and the importation and exportation of audio files--Pro Tools' main strengths. Chapters 9, 10, and 11 cover MIDI and all the plug-in processors so popular with this system.
The book finishes with exercises and many shortcuts to help you become a "power user" where the steep learning curve and expense of PT starts to really pay off! You'll soon be using PT as an your main "axe"--like a musical instrument to quickly realize your best musical ideas.
At $49.95 MSRP, The Complete Pro Tools Handbook is a bargain and available at bookstores or online at www.backbeatbooks.com or by calling 866-222-5232.




The Complete Pro Tools Handbook
---