New Five-String Badass® Bridge from Leo Quan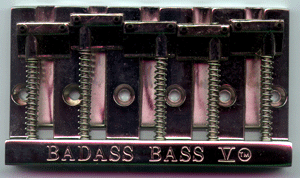 The Badass Bass V Bridge comes in chrome, gold and all black finishes and features a new manufacturing process that is said to focus the bridge's tone range. You can buy a bridge that is very bright and punchy or go with one that is old-style and softer sounding.
Since 1972, Badass Bass Bridges have been an OEM (other equipment manufacturer) product for custom bass luthiers--they were never intended for direct replacement for Fender® bass guitars. In 1976, Badass Bass II went into production and was a direct, hole-for-hole bridge replacement for Fender instruments.
The new five-string bridges have already found a big following even for replacement on four-string instruments. Apparently the bridge, when used on a four-string bass, increases sustain. For much more information check out www.leoquan.com or call 310-401-8090.
---