Baldwin Beale Street Blue Piano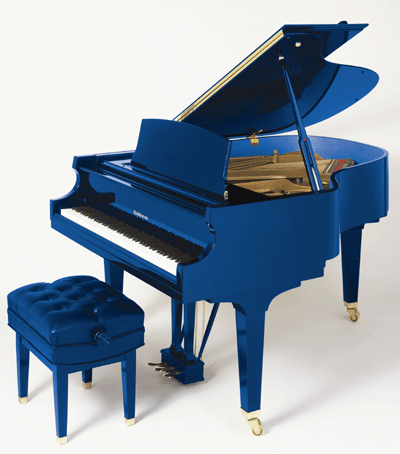 Baldwin is having fun with new piano designs and unique custom models and colors. Since introducing the first Baldwin FDNY "fire engine red" grand piano in honor of the New York Fire Department in 2001, Baldwin has since offered innovative custom models and colors, including the yellow custom "Hummer" piano, the cool Beale Street Blue piano finish (pictured) and the Elvis Presley Signature model sanctioned by the Elvis Presley estate. Other neon colors include yellow and green.
Baldwin introduced the Baldwin Custom Grand program; a "whatever you want" custom shop offering everything from custom carvings and engravings to painted murals, special materials and finish colors--even Liberace-style jeweled treatments.
Baldwin has been around since 1862 and, at the turn of the century, Baldwin pianos had won numerous international awards. By the end of the century, Baldwin became the largest American piano maker. Baldwin joined Gibson Guitar Corp. in 2001, and is now headquartered in Nashville. The Baldwin family of brands includes Wurlitzer, Chickering, Hamilton and D.H. Baldwin. For more information, visit: www.baldwinpiano.com.
---