EMTEC Formatted DTRS Master Tape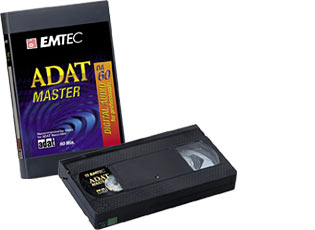 One of the necessary "evils" of digital tape recording is that you have to format blank tape stock before you can record on it. Formatting is a real-time process that works your tape machines... adding an extra hour of head wear for every hour of recording time. EMTEC Pro Media follows their introduction of pre-formatted ADAT master tape with the new DTRS pre-formatted tapes. You will save both time and "drum-on" hours of wear when you use this tape in your Tascam DA-38, DA-88, DA-98 or Sony PCM-800 machines. The tape is offered in 30, 60 and 113 minute lengths and both 44.1 and 48kHz sample rates.
The tape formulation used is called DTRS Master and is essentially the same as DM 936 introduced earlier for use in DTRS machines. Formatting is done in real-time using Tascam recorders and quality checks include random checks of production samples from each of the formatting recorders against a reference machine. The BLER rate is then checked to make sure that it is lower than EMTEC's threshold specification.
EMTEC, manufacturer of audio, video and data media products is at: 888-295-5551 or www.emtec-multimedia.com
---