482i and 882i Sonic Maximizers from BBE Sound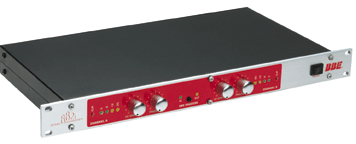 The BBE 482i and 882i Sonic Maximizer signal processors are the latest ruggedize versions of the very popular BBE 482 (-10dBv) and BBE 882 (+4dB) stereo units. Specifically repackaged to meet the demanding applications of sound reinforcement and touring, these units have thick, extruded aluminum faceplates anchored to the chassis with beefy hex bolts. Another new feature is the addition of knurled aluminum control knobs providing more positive feel and control as demanded by musicians, live sound mixers and DJs.
However, sturdiness is not just skin-deep with these new units; both models use 1% metal film resistors and a military-spec printed circuit board with extra thick traces. Furthermore, all pots, switches and jacks are directly mounted to this board. As always, the units feature a pair of the proprietary and extremely quiet Sonic Maximizer op amps and a universal built-in power supply. The striking red and silver front panel has improved, easier-to-read graphics well suited to the poorly lit environs of stage and studio.
For more information and pricing, contact BBE Sound, Inc. at 5381 Production Drive, Huntington Beach, CA 92649. Telephone 714-897-6766 or visit: www.bbesound.com
---