Kenwood Dennard: The Studio/Touring Drummer from Berklee Press.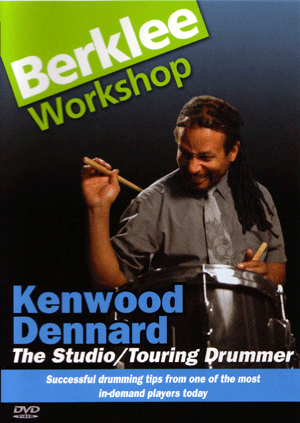 Dennard draws on his 25+ years of experience playing with Dizzy Gillespie, Jaco Pastorius, Herbie Hancock, Maceo Parker, Gil Evans and Wayne Shorter for this 61-minute DVD instructional video. You get a full hour of drum clinics you can learn at your own pace and use all the abilities of DVDs (rewind, repeat and locate to specific sections etc.).
Co-author Matt Marvuglio and Dennard take you through lessons that include: singing and internalizing melody; melodic treatment of the drum set; aspects of solo performance; and the use of contrast, registration and orchestration.
Priced at just $19.95, Kenwood Dennard: The Studio/Touring Drummer is from Berklee Press and just one title in their new Workshop Series. DVD videos in the Workshop Series are taught and presented by Berklee staff professors. Other titles in the series are: Preparing For Your Concert by JoAnne Brackeen; Harmonic Ear Training featuring Roberta Radley; and Vocal Technique--Developing Your Voice For Performance by Anne Peckham. For more information, contact www.berkleepress.com/
---