Mix Masters by Maureen Droney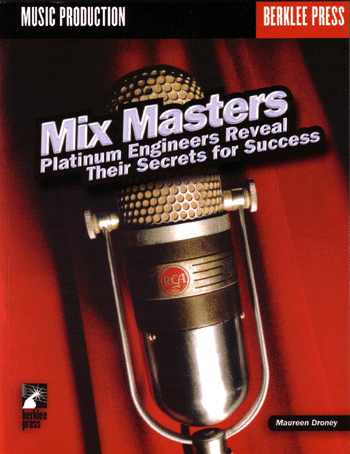 Mix Master: Platinum Engineers Reveal Their Secrets For Success, from Berklee Press, offers a very candid and behind the scenes look into the world of the unsung hero of the recording studio: the recording engineer. Author Droney, who has enjoyed an extensive 20-year career as recording engineer on high-profile album projects ranging from artists Santana to Tower of Power, asks all the right and pertinent questions---ones not usually posed by less technically qualified writers.
There are 27 interviews here of engineering greats like Don Murray, Al Schmitt, Mick Guzauski, Geoff Emerick and Elliot Scheiner to name a few. These engineers reveal many of the recording secrets used in albums by Aaliyah, Nine Inch Nails, Brian Eno, Coolio, Faith Hill, The Beatles, Babyface, Santana, The Rolling Stones and many more.
We found Droney an expert at steering these interviews from the strictly didactic by interweaving the wealth of unique technical recording and mixing techniques with interesting life stories of starting out and eventually becoming successful in the music business. So besides finding out what kind of vocal recording chain Alan Moulder used on Trent Reznor's Fragile album, you'll also learn that Alan started as a tea boy at Trident Studios in London and moved into engineering by doing high-energy disco music.
Certainly a source of instant inspiration for any newcomer to the recording arts, Mix Master: Platinum Engineers Reveal Their Secrets For Success by Maureen Droney sells for $24.95 and is an all-around great read for anyone interested in the magic than can happen during a recording session. Contact Berklee Press in Boston, MA. Telephone 617-747-2666 or visit www.berkleepress.com




Mix Master: Platinum Engineers Reveal Their Secrets For Success
---