Inside The Hits from Berklee Press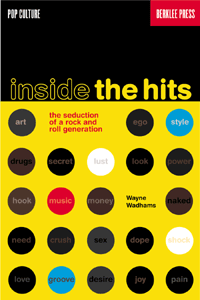 Inside the Hits: The Seduction of a Rock and Roll Generation by Wayne Wadhams is a collection of facts, history and trivia about 60 classic Rock music recording--an inside look at some of the craft, art and process by which many big hits become reality. Author Wadhams acts as a 'musical detective' as he tells some of the little known stories behind hits like Elvis Presley's "All Shook Up" or Michael Jackson's "Thriller."
Useful as an instructional tome, Wadhams also investigates each song's melodic structure and arrangement, lyrics, and production history. He makes the case for the artist's personality and image, the timing of the release, and social context all affecting the song's commercial success.
Some of the songs covered are: "My Girl" by the Temptations, "I Get Around" by the Beach Boys, "You Really Got Me" by the Kinks, the Rolling Stones' "Satisfaction", "Light My Fire" by the Doors, "Respect" by Aretha Franklin,
"Kodachrome" by Paul Simon, Stevie Wonder's "Superstition", "Every Breath You Take" from the Police, "Fast Car" by Tracy Chapman, and many Beatles hits.
"Inside The Hits" sells for $29.95 from Berklee Press at 1140 Boylston Street, Boston, Massachusetts 02215-3693, U.S.A. Phone 617-747-2146. Go to www.berkleepress.com. Berklee Press titles are distributed by the Hal Leonard Corporation, 800-524-4425, www.halleonard.com.




Inside the Hits: The Seduction of a Rock and Roll Generation
---