Producing Music With Digital Performer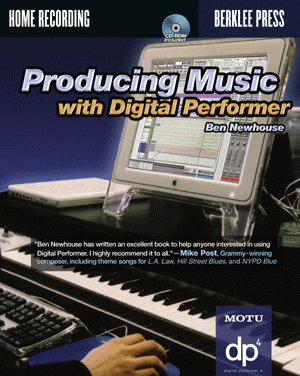 Manuals that come with powerful sequencer programs are notoriously hard to learn from. It's not that they are badly written--it's just that they're authored by people who already know the program backwards and forwards and may not offer the insight, techniques, and shortcuts learned from actual music-making that seasoned music pros could.
In conjunction with Mark of the Unicorn (MOTU), Producing Music With Digital Performer by Ben Newhouse starts you from the very beginning with the installation of DP and proceeds with easy-to-follow steps fully explaining each new concept along the way. Picking up where the DP manual leaves off, there are loads of diagrams that explain each new feature or topic and there are schematic drawings for setting up your studio incorporating your MIDI gear and mixing console.
You'll learn everything: from setting up your studio; file setup; recording and editing both MIDI and audio; making you MIDI tracks sound more realistic; mixing and mastering your songs; and synchronizing your music to film or video. DP is one of the most popular squencer/DAWs for film and TV music composers--especially here in L.A.
The included CD-ROM has audio tracks and session files that are cross-referenced examples of the projects shown in the book. You'll learn the 'pro' ways and 'pro' techniques that get the job done every day for music business professionals.
Producing Music With Digital Performer sells for $29.95 and is published by Berklee Press, and distributed by Hal Leonard Corporation. For more information, contact www.berkleepress.com/.
---