Producing in the Home Studio with Pro Tools, 2nd Edition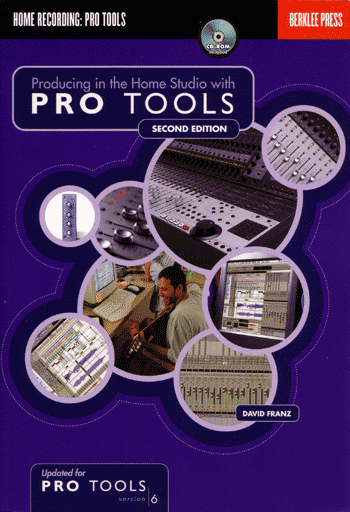 The second edition of Producing in the Home Studio with Pro Tools by David Franz becomes a necessity when you've upgraded to Pro Tools 6 and new hardware such as the Digi 002, Mbox, Digi 001 and Digi Toolbox XP. Again in cooperation with Digidesign, Franz covers pre-production, production, mixing, and mastering using the now defacto standard Pro Tools system. Besides updating for PT 6, Franz covers topics such as recording budgets, how to run a session and how to set up a studio. There are whole chapters that tackle recording engineering duties such as proper drum recording setups and general microphone techniques.
We think this book a "must read" for beginners to experts alike using Pro Tools at home or at the studio since it covers the important to the arcane processes possible in PT. Steps to becoming a "power user" like quick keys and session template building are stressed with popular techniques such as compiling vocal tracks, tuning vocals, setting up effect sends, voiceover editing, and extensive plug-in use all covered.
The included CD-ROM has many example session files with audio files that are used tutorially in the book. There are also short movies showing how to enable and "draw" automation moves along with examples of track comping. There is a whole library of valuable session starting templates and useful .pdf forms that cover I/O connections to take and track sheets to tutorials on timecode. We like that Franz emphasizes documentation when using Pro Tools--a problem with most new users failing to document their work and leaving it to the next person (who would work on their session) to figure out the many details and complexities of a typical PT session.
From Berklee Press, Producing in the Home Studio with Pro Tools, 2nd Edition by David Franz sells for $34.95. For more information, contact Berklee Press at 866-BERKLEE or www.berkleepress.com




Producing In The Home Studio with Pro Tools-2nd Edition
---