BIAS SoundSoap Pro

See SoundSoap 2 Update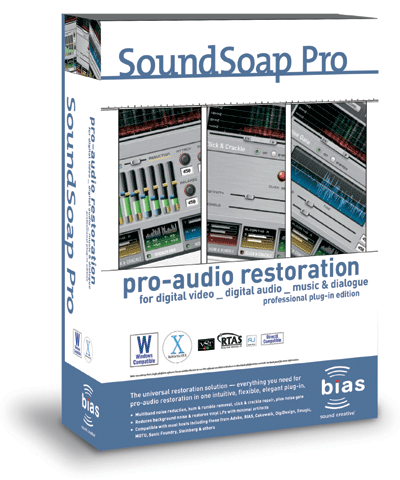 SoundSoap Pro a suite of four restoration and noise reduction modules for use in digital video, film, broadcast, and multimedia audio recordings. It comes as a VST, Direct X, RTAS, AU, and Audio Suite plug-in for virtually any host program running on Macs and PCs. I installed SoundSoap Pro in my 800mHz G4 iMac flat panel running Peak Express 4.12.
The four modules are arranged left to right in a suggested processing order: Hum and Rumble; Click and Crackle; Broadband; Noise Gate.
Hum and Rumble allowed me to exactly "tune in" a 60Hz ground loop hum and some air conditioning rumble on a guitar track and remove it without too much sound change on the guitar--a little low frequency was also loss which I was going remove it anyway. The Click and Crackle module worked amazingly to remove only the pops and ticks on an old recording. SoundSoap is aptly named if it only did this! The Broadband module removes room noise, tape hiss, road noise from a moving vehicle, or noise from air conditioners. It also removes electrical "buzzing" sounds common in many audio recordings. The software "learns" the signature of the noise and effectively removes only it from the desired audio. The fourth module is a noise gate for automatically muting the audio during long periods of no useful content.
The interface was remarkable responsive even on my iMac and the graphical Spectrogram, Hum Meter, and Audio Waveform displays greatly aid in the meticulous fine-tuning this process requires. The Broadband module lets you reset threshold (The level where the noise reductions starts to work) and the depth of reduction for minimal collateral damage to the wanted audio.
SoundSoap Pro is available through the worldwide network or authorized BIAS dealers and distributors, and direct from BIAS, for US $599MSRP. BIAS at 707-782-1866 or www.bias-inc.com
---