Tower Of Funk by David Garibaldi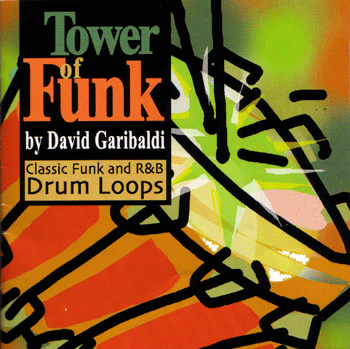 Since the day drum sampling from records was first thought of, the very next thought was to sample and loop David Garibaldi's unmistakable drum grooves. Garibaldi's sound is at the very heart of Tower of Power's hit records. Suffice it to say that pilfered Garibaldi drum loops were and continue to be the basis of many Funk, R&B and Hip-Hop hit records making David (by way of his tremendous influence and contribution) a permanent resident of Modern Drummer's Reader's Poll honor roll with six years in a row as winner in the R&B/Funk category.
Now Big Fish Audio has a two CD set with over 800 classic Funk drum loops, fills and samples all performed by Garibaldi himself. Disc 1 is a standard audio CD that plays in any CD player or so equipped hardware sampler like the Akai S3000. Disc 2 contains all the same audio samples but in .wav file format that has been Acidized™ so they run in Sonic Foundry's Acid 4.0. All the samples were originally recorded and mixed digitally at Track Star Studios in La Mesa, CA using the best microphones, analog processors and converters.
We liked the big fat sound of these loops and samples---ready to be EQ'd, processed or chopped into any shape to fit your song's track. The end user license agreement allows (with certain restraints) the use and incorporation of these samples into any derivative musical work. Tower of Funk by David Garibaldi sells for $99 MSRP and is available from Big Fish Audio in Sun Valley, CA. Telephone them at 818-768-6115 or visit www.bigfishaudio.com
---