The Bil-Lite LED Sport Utility Light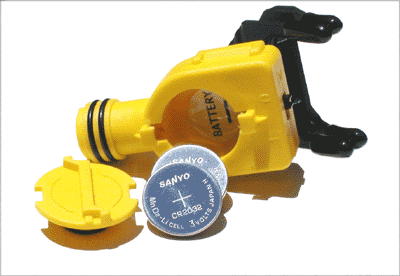 The Bil-Lite LED Sport Utility Light is lightweight and easily clips to your glasses or the bill of your hat---or on any other place convenient to illuminate the dark recesses of your equipment rack or the pits and cubbyholes where stage equipment is often found. DJs, guitar techs that must work in the dark places or on stage, soundmen, and stagehands all find the Bil-Lite very useful.
Powered by two, three-volt 200ma 2032 lithium cells, the Bil-Lite emits a clean bright beam where you aim it--hands free! The lithium cells cost $1.50 to $1.95 each and have shelf lives of 10 years but know that the white LED will never burn out. If you do clip one to your hat, your line-of-sight will be illuminated continuously for 80 to 100 hours. (It will start to dim along the way) The patent pending Bil-Lite SUL uses a unique lens system said to intensify the light output for a superior suffusion of light. The Bil-Lite SUL is designed and manufactured in the USA by Q Lighting, Inc. Q Lighting is a spin-off of QED Inc. who took principles garnered from more than thirty years experience in headlight systems for the medical and dental fields and applied them to the design of Bil-Lite.
For much more or to order one, contact Bil-Lite in Lexington, KY at 800-513-2256 or visit www.bil-lite.com
---