Cakewalk Kinetic Groove Sequencer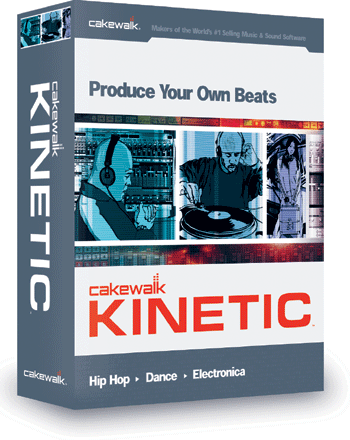 Kinetic is a PC program especially designed to create Electronica, Hip Hop and Dance music. Kinetic combines a simple, intuitive click-and-groove sequencer interface with genuine Roland® instrument sounds--sounds alone worth ten times Kinetic's $79.95 MSRP. Electronic music beat creation is now accessible to everyone, regardless of musical experience do to the hundreds of professionally recorded patterns that come with it.
I liked the simple way you start composing a song. I would first select an instrument or group of instruments, like a Roland TR-909 kick or TR-808 Side stick, and then a style of music from hundreds of music patterns. The ACID™ format loops in the Content Browser will inspire you to get busy.
There are five basic building blocks in Kinetic: Patterns made up of MIDI notes or audio called Groove Clips--you can tweak these sounds with the on-board effects processor; Patch is a synth sound with effects--there are over 400 different sounds; a Part represents a patch plus pattern combination and Parts can be MIDI or audio that you place anywhere you want in the song; Grooves are 16 parts that play together but you can mute or solo part(s) and add empty space; and Songs, which can contain up to 64 grooves arrange by you in the Song Arranger window.
Add audio recording to your tune by connecting Kinetic to Cakewalk Home Studio™, SONAR™ or any other Rewire host application. For more information visit www.cakewalk.com; or call 888-CAKEWALK.
---