Sonar 2.0 from Cakewalk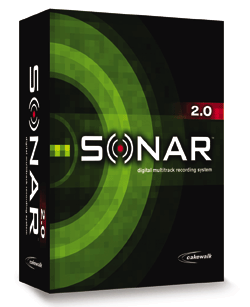 Sonar 2.0 is the latest version of Cakewalk's digital multi-track recording system for Windows PCs. Sonar gives you unlimited digital audio and MIDI tracks; a centralized interface design; advanced audio looping and editing tools; integrated DXi software synthesizer plug-ins; fully-automatable DirectX 8 audio plug-ins; real-time MIDI FX plug-ins; and extensive ACID and SoundFont libraries.

New 2.0 editing features are: Audio Scaling- allows users to zoom in on low level audio to make detailed edits without changing track heights; Extract Timing- extract timing from audio to create tempo maps; and Scissors Tool- quickly split audio and MIDI clips into regions. New mixing features are: Offset Gain Stage- adjust the overall mix without editing in automation; Mixing Envelopes- make envelope changes while hearing the results; Fade Tool Enhancement- more fade curves choices. There also are Cyclone Dxi, a 16-part groove sampler; support for CM Labs' MotorMix and Tascam's US-428 controllers; multi-part, pattern-based drum editing and custom drum mapping; soft synth integration; ReWire 2.0 support for integrating Reason, ReBirth and other apps

SONAR 2.0 XL adds two, 64-bit, fully automatable DirectX 8 mastering effects and FXpansion DR-008 soft synth drum sampler workstation. You also get Sonic Timeworks EQ, a 30-band spectrum analyzer and Sonic Timeworks Compressor X.

Sonar 2.0 costs $479 or an $79 upgrade fee from Sonar 1.0. Sonar 2.0 XL is $599 or $169 upgrade. Go to www.cakewalk.com or call 888-CAKEWALK.











---