Cakewalk Sonar 3 Producer Edition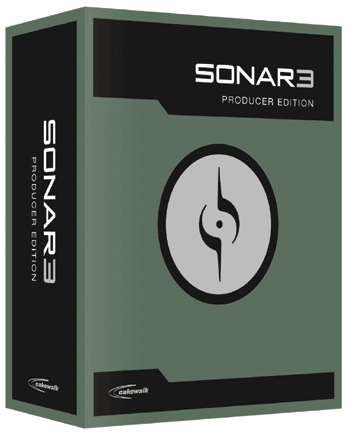 The busy beavers at Cakewalk have the very latest music production software suite for PC with Sonar 3. Immediate noticeable by Sonar users is the redesigned interface with the Track and Console Views showing six-band Channel EQ and assignable FX controls. Internally, the program has a new Universal Bus Architecture, a specially designed Lexicon® Pantheon™ Reverb, Ultrafunk Sonitus:fx Suite and a DXi version VSampler 3.0. Everything from control style and layout, toolbars, and even colors (with presets) has been updated. There are: per-track input echo toggle for monitoring live audio, MIDI on any combination of tracks; confidence recording for real-time display of audio waveforms, MIDI data, and automation regions while recording; and the new Track Inspector pane provides convenient access to all track/bus parameters, settings, and plug-ins.
Sonar 3 Producer Edition builds on the great Sonar platform with fast, intuitive controls for (hopefully) capturing inspired music moments. The precise tools give you accurate, effective real-time editing along with nearly total customization. With over 100 new additions, it's hard to know where to begin but for starters know that there is gapless effects patching, VST/VSTi Rewire support, ASIO & WDM compatibility, enhanced MIDI routing and synth layering with MIDI Groove Clips, ACID™ loop and Project5™ pattern support, and multi-port MTC/MIDI sync transmission.
SONAR 3 comes in two versions: Producer Edition ($719) and Studio Edition ($479). Producer Edition includes MIDI Groove Clips from KEYFAX™ in folk, jazz, rock, blues guitar, and drums styles; and over 500 live percussion, drums, acoustic and electric guitar, bass, modern and vintage synth files from PowerFX™ and SmartLoops™. SONAR 3 Studio Edition is designed for project studios and aspiring professionals and has the same core engine and feature set of the SONAR 3 Producer Edition and includes the LE version of the Lexicon® Pantheon™ Reverb and does NOT include per-channel EQs, assignable Channel FX controls, VSampler 3.0 DXi and Additional CDs of sample content, and Ultrafunk Sonitus:fx Suite. For more information, visit Cakewalk on the web at www.cakewalk.com; or call 617-423-9004.
---