Carvin Keyboard Amps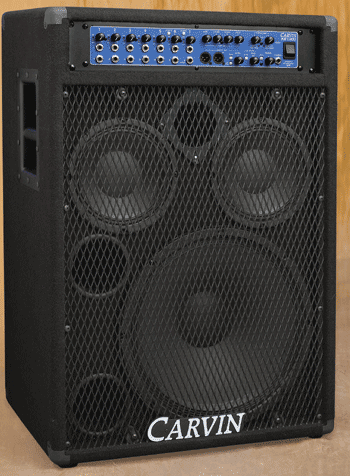 Carvin has three new keyboard amps to suit any size gig from a small setup for casuals to an impressive, big stage rig. First is the KB100, a portable that delivers 100W RMS into a heavy-duty 15-inch woofer and horn. You get four channels with many input options: two stereo or dual mono 1/4-inch, one mono 1/4-inch, and one XLR mic/1/4-inch combo. All these inputs mean you can connect numerous keyboards, modules, drum machines and even a vocal mic.
The KB1010 & KB1015 are available either as a 2x10-inch w/horn combo or a monster with a three-way 15-inch, dual 8-inchers and horn. (Pictured) All have 1000W RMS and seven stereo (or 14 mono) inputs and a clever DI Muting system on channels six and seven that allows you to run a click track, live music cues or your own vocal mic without feeding the main house PA. There are completely individual controls for the internal amplifiers so you can set the DI proper stage levels for you and house levels for the PA mix all at once.
Other good features in these amps are: a built-in crossover for bi-amping, separate Amp1 and Amp2 controls, separate mono switches for DI and Main outs, DI ground lift, headphone jack, and a master four band EQ.
For much more information, contact Carvin Corporation in San Diego, CA. Telephone them at: 858-487-1600 or visit www.carvin.com.
---