CD Architect 5.0 from Sonic Foundry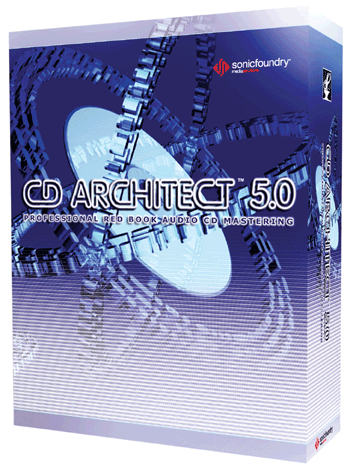 Sonic Foundry's new CD Architect 5.0™ standalone software provides incredible flexibility for professional Red Book audio CD mastering. Non-destructive editing tools, a customized work environment and over 20 real-time DirectX® effects allow virtually limitless flexibility in finishing your music for a project.
New features include: 32-bit and up to 192 kHz audio support, the Trimmer window for editing selected portions of media to use as a track, multiple file support without conversion, dual computer monitor support, undo/redo history and auto save crash recovery which saves a backup of your project every five minutes while you work. Buffer under run, PQ list verification, audio clipping detection and a test burn mode all help to prevent wasted discs. Expanded CD recorder support includes all SCSI, USB, Firewire and IDE/ATAPI drives for disc-at-once burning.
CD Architect allows for up to 99 tracks to be written on each disk with track list information available for a print out for replication houses. Industry Standard Recording Codes (ISRC), Universal Product Codes (UPC) or Media Catalog Numbers (MCN) can also all be added.
Complex cross fades between songs are made easy using the Audio Layering feature, which lets you define separate fades when overlapping tracks. Full PQ subcode editing along with timeline event locking, CD player un-mute fade emulation, and smart track reordering gives CD Architect 5.0 the edge as an extremely powerful CD Mastering package.
CD Architect 5.0 runs under Microsoft® Windows® 98SE, ME, 2000, or XP and lists for $299. The boxed version costs $240, while the downloadable version is for $210. You can also upgrade CD Architect 4.0 for $99.95. Check their web site at: www.sonicfoundry.com or call 800-577-6642 to order.
---