Coffin Case Pedal Boards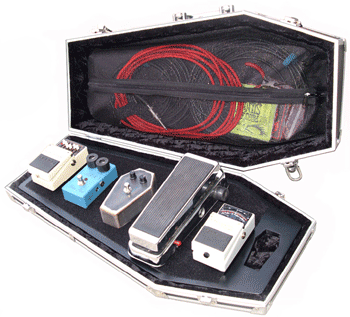 Just in time for Halloween, Coffin Case the inventors of the unique coffin-shaped guitar and drumstick cases have the LF-110 pedal board with hard case and the BB-110 board and soft gig bag. As matching accessories to Coffin's guitar cases, both the LF-110 and BB-110 augment the Gothic motif so popular with guitarists who want a certain stage presence as well as functional design.
The LF-110, at $159.95, is ready for the road or crypt with a black scratch-resistant PVC exterior, riveted steel corners, "Secure Tight" locking latches, chrome handle and non-skid rubber bottom. The inside of this casket case features a black funerary, diamond-tuck velvet lining with the inside lid sporting a shear, spider web-like mesh netting for cables, accessories and other sorcerous keepsakes. The contents of the Coffin Case won't escape into the night at dusk because a detachable solid wood pedal board with "Fly Grip" super adhesive Velcro is included to secure pedals, the bewitching spider web graphics, and the stony cold Coffin handle.
The BB-110, at $79.95 has the same professional pedal board but with a ghostly-light gig bag case for local séances or a late night studio haunting. The bag has a durable Black Death nylon exterior, Armor frame insert for rigor mortis strength, and large zippers for an everlasting afterlife. The interior of the gig bag is lined with the classy Coffin Case signature blood-red diamond tuck velvet.
For more information, contact Coffin Case at: 7764 San Fernando Road. Unit 15, Sun Valley CA. 91352. Telephone 818-767-3511 or visit www.coffincase.com.
---