Noah from Creamware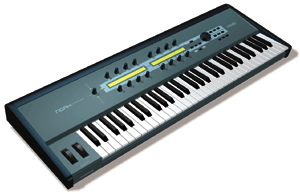 Noah is a software-programmed keyboard synthesizer and expander. All sound production, effects, step sequencing and arpeggiation are accomplished within software written for its DSP chips. Noah is capable of all the popular synthesis methods: analog or subtractive, FM, vector and wavetable synthesis. There are new physical modeling technologies for guitar and bass sounds and optional expansion for sampling and PCM sound. Since Noah is configured completely with software code, it can be "re-invented" at any future time obviating the need to ever buy a new keyboard. With over 1,000 sounds and built-in effects, all editing can be done right on the keyboard itself as well with an optionally connected PC.
Noah comes with nine basic instruments: Minimax, a MiniMoog Simulation; Vectron Player, a Prophet VS-type synth; Lightwave, a wavetable synthesizer with 128 waveforms, 2 powerful filters and flexible modulation matrix; Six-String, a model of a six-string guitar; Four-String, a four-string bass model; B 3000, draw-bar organ; Beatzbox analog drum synth/computer; Hybriddd combines FM and analog synthesis and Vocodizer, a 22-band vocoder with integrated synthesizer.
Available also in a rack mount version, Noah comes with stereo analog inputs and outputs, eight individual ADAT outputs, MIDI jacks, a USB port, and a slot for Compact Flash data storage. For more information, contact Creamware in Germany at 49 2241 59580 or visit www.creamware.com.
---