radiaL from Cycling '74

See Update Below!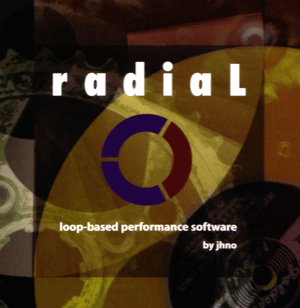 For MAC computers only, radiaL is an advanced loop sequencer designed for sound design, composition and live performance. The graphical interface is one of the most beautiful I've seen with intuitive controls for four circular, rotating wheel displays or channels each representing a single loop recording. By changing a configuration setting, you can have as many loop channels as you can display on your screen(s). Each loop channel has its own multi-filter and pitch shifting/time scaling controls and loop loading a simple 'drag and drop' operation. RadiaL automatically 'slews' all loops in sync with the tempo you have selected. Each of the loop channels display the current play position of the loop, the loop's name and provide clickable buttons for mute, solo, volume, pan position (to the audio mixer), retriggering loop start, and most importantly, allow selection of the part of the loop you wish only to play--be it 1/2, 1/4 or 1/8th of the total length of the original loop recording.
At this point radiaL starts to differ significantly from other loop-based sequencing programs: instead of looking at audio waveforms (although you can deeper in radiaL if you want) to pick start and end times of a loop, radiaL allows you do this 'on the fly' as the loop plays and your inspirations would demand in the studio or live in front of an audience. With all loops always running sync, even if you mute, solo, or pick different sections of the loops for playback, there are never rhythmic crashes.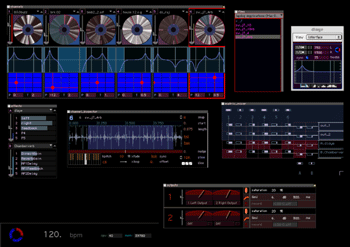 Expanding the loop channel display reveals the filter display and pitch/time grid. Each channel has it's own cascaded low and high pass filters that are easy to adjust with the mouse. The pitch/time grid lets you stretch or shrink either time (or length of a loop) or fix an out-of-tune loop. I like the quantize or 'snap' feature that precisely moves the loop to the next integer value for spot on tempo or pitch correction.
It is impossible to cover all the abilities of this great software system here but know that radiaL offers sample-accurate loop playback; support for .aiff, .wav and .mp3 files and multi-channel audio by way of the Matrix Mixer; full support for ASIO, ReWire, Direct Connect, VST in OS 9 and CoreAudio in OSX and comes with collection of loops and 13 Pluggo effect plug-ins. RadiaL sells for $249 MSRP boxed or download it from www.cycling74.com for $199.


November, 2003. Update!

From an Cycling '74 press release. The new features of radiaL 1.1 include:

Cycling '74 today announced the release of Radial 1.1, an extensible loop-based composition and performance tool designed for Macintosh users looking to explode the boundaries between live performance, sound design, and composition. Radial 1.1 takes advantage of Mac OS X's Core Audio and Core MIDI, allowing the use of multiple audio and MIDI interfaces at very low latency. Radial 1.1 also includes several enhancements including a convenient new file grouping mechanism and improved sync capabilities.
Radial supports all major audio file formats and I/O standards. As a bonus, you get a dozen plug-in effects from the Pluggo collection, as well as a free library of loops. Pluggo 1.1 includes new plug-ins for live audio input, parameter automation and reverb.
Version 1.1 of Radial for OS X is available as a free upgrade to all registered Radial users.
---