D'Addario ProSteels Bass Strings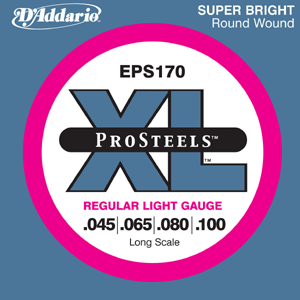 D'Addario's new ProSteels stainless steel bass strings are super-bright yet not harsh sounding. You can get the grit and growl for rock and metal or the bite and snap needed for funk and modern jazz. Players say they love the brilliant, yet sweet, high end as well as the deep, focused bottom. These strings have the coveted "piano tone" with full roundness and sustain. Years were spent sourcing, testing, and validating the specialized alloy that's responsible for the unique ProSteels sound. ProSteels strings underwent a rigorous testing period that included blind evaluations from professionals, instructors, working players, and serious hobbyists.
An immediately noticeable improvement in tone and performance over traditional stainless steel bass strings, each ProSteel is produced on D'Addario's exclusive, computer-controlled machines that monitor and precisely control all critical variables in the winding process. The result: strings that deliver outstanding tone, precise intonation, long life, and unparalleled consistency, set after set.
ProSteels bass strings retail for between $32.99 and $59.99 and for more information on D'Addario strings, visit: www.daddariostrings.com
---