Music Masters Series from Digital Music Design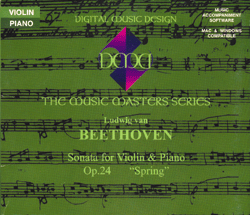 Designed for the classically trained musician, the Music Masters Series operates like the old Music Minus One series of LPs but with much more control. The program playbacks classical pieces on your computer and allows you to play your instrument along while either listening to the prerecorded soloist's part you are learning or muting it for practice and further study. Simultaneously, the score is displayed on the screen with the soloist's part highlighted and "tracked" as the piece plays. But unlike old Music Minus One technology, you can adjust the speed at which the pages turn. Computerization also makes possible a Practice feature allowing you to "loop" and rehearse more difficult sections by selecting a range of pages of the score.
Rather than just "canned" MIDI recordings relying on external MIDI instruments or the cheesy internal sounds of your sound card, each Music Masters Series CD-ROM features 44.1kHz, CD-quality digital audio recordings. Music playback is always instantaneous and glitch-free. While you take a break from practicing, you can check out the included multimedia presentations on musical analysis, historical information on each score and composer and read encouraging suggestions on better performance and practice.
Selling for $49.95 MSRP each, currently there are three Music Masters Series releases available: Mozart's Sonata for Violin & Piano K. 454, Beethoven's Sonata for Violin & Piano Op. 24 and Bach's Sonata for Piano and Violin BWV 1014. Many future titles are in the works by the elves at DMD. The CD-ROMs are compatible with both MAC and PC platforms and requires no MIDI hardware, sequencing software or any advanced computer knowledge to master quickly. Digital Music Design is at 9909 Topanga Canyon Blvd. #140, Chatsworth, CA 91311. Call them at 818-700-9496 or visit www.digitalmusicdesign.com
---